The painful face of poverty.
We see hunger every day. Homeless, street beggars, and children are an everyday problem here. In Bangladesh homeless people, especially children are very common in city areas. I have grown up seeing them. So after having everyday interaction with them they don't bother us or make us much uncomfortable anymore.
But I know for sure how you would feel passing by them.
I can recall a memory of my experience six years ago. Maybe that's a familiar scenario in rural Bangladesh but it was very uncommon and new to me. I remember how painful I felt at that time, that experience still haunts me from time to time.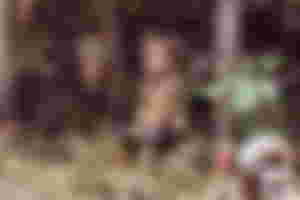 I had the opportunity to work with an international development organization. I worked with HR, to investigate a fraud issue I had to make a field visit to one of the rural areas of our sub-district. Some of my colleagues were working on other projects at that time. One day I decided to hang out with them after finishing my work. They were interviewing a grandmother to give financial support to her granddaughter.
Let me tell you what I experienced!
The girl's mother died giving birth to her. Her father went crazy after that incident and committed suicide a few days later. Her grandfather is disabled and her grandmother is old age/couldn't work. We were in the front yard of their home. They had nothing at home, nothing. It was a mud hut with no furniture and a rotten roof. Only a water jug, a mug, and a plate were inside. NOTHING. The girl was around 5 years old at that time. She was in a dirty, ripped frock dress with no sandals on her feet.
The grandmother was saying, "only she knows how they are surviving."
I had no words. I was shocked to see their condition. Her grandfather was so sick, I couldn't see him any longer, I was feeling so uncomfortable. I was so embarrassed about my branded outfit and accessories. I was ashamed for not doing much.
It was the very first time I have seen the face of poverty for real.
My organization included that family on the regular financial support list and took the full educational responsibility of the child. As part of org policy, we were not allowed to make any personal donations.
So that was the story.
I still sometimes think about the girl. I hope she is doing fine now, she will always be in my prayers.
Maybe that question was asked to share our personal life stories. But in front of what I have experienced back then is nothing compared to my life. I'm blessed that my parents gave me a comfortable life, food to eat, and shelter to grow up in. I really feel blessed and pray for them that they did it.
What I learned from this is, that we must do as much as we can to help, and support others. So life could be a little easier for all.