My first time seeing Manila Palm aka Adonidia merrillii trees! 🌴🌴🌴
It's not like palm is a real tree in my region nor do I ever see palm trees. But this is the very first time I have seen Manila palm trees. No need to say, the vibrant red palm fruit with the green contrast of the leaves made me amazed.
I have been to one of the greenest parks of Bangladesh called 'Jinda park', the word means "alive". It literally felt alive being there. After entering the park, these green fruit catches my eye. As I had no idea about these manila palm trees, I got close and enjoyed the surprise of nature.
Manila palm is not our native. We have many sugar palms and Areca palms all over the country though. By seeing the shapes and size of the trees, I was damn sure it was another kind of palm. And Google told me the same. This park is well known to preserve many varieties of trees and this is part of their program.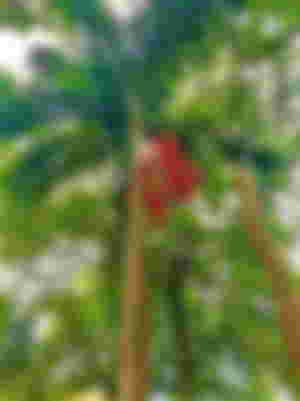 I'm not sure if this plant has different usage other than being an ornamental tree. But I have heard that they have medicinal values. I believe this can be a good ornamental tree in public areas like parks and along roadsides as well as home gardens. Hopefully, in a few years, we can get to see a lot more in our region.
It may sound silly but I really liked the red fruits!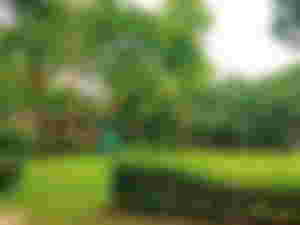 But hay! Look at this sight. The trees from the far look amazing, right? As I said, the red and green contrast was such a pleasure to look at.
May you never be too busy to stop and breathe under a palm tree.
I have read this somewhere. While I was roaming around the place this came to my mind. Because the whole path was surrounded by trees and it felt so calm and peaceful. Truly, we need time to take a break and relax under the trees.
In the end, life is about moments. We create and live on them.