A funny experience about Uber rides.
You use Uber every now and then and didn't have any awkward, tainted, or funny story; it's pretty unbelievable. Especially when
Uber has been running in Bangladesh since 2016. It became popular around 2018/19. So, the drivers are not quite professional back then. Also, many used to drive their cars for some extra, not like they were professional.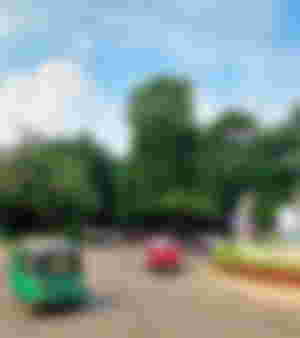 The story I'm about to tell you is about my husband. It was back in 2019 before Covid hit. He is such a person who can sleep anytime, everywhere; no pillow needed, nothing. So he thought a good nap for 30 minutes on a solo ride (where our son can't interrupt) wouldn't be a bad idea!
He called his Uber, got himself on the ride, and fall asleep in a few minutes. His destination was around 45 minutes from our house. The name of the location was Khilgaon. But accidentally/unintentionally he clicked on the map Khilkhet. The name of both of the location is quite similar and that's why he didn't notice the difference. Also, the price difference didn't catch his eye. Because he is not that observant.
Anyway...
So he slept for a while, didn't know that the ride was going on for more than an hour and a half. When the driver called him to drop him off at his destination, that's when he noticed that he is in Khilkhet instead of Khilgaon. It was pretty awkward for him. He checked his app instantly and saw it was his mistake, not the driver's. His mind got blanked for a while. Because the place is totally opposite where he needed to be.
After a while, when the driver understand that my husband need help, the gentleman proposed to drop him off at his destination (without using the app this time). And my husband said Yes as he didn't have any other better alternative. So they got back where they needed to be in about another 2 hours.
Surprisingly, the driver refused to take the payment for his second ride. It was a bit awkward for my husband. Then the driver shared, it's his own car (not rented like usual in our country). He usually doesn't drive every day, every hour; but rather when he feels like it. It doesn't cost him much to drop off my husband in that location, also, he has some work nearby. My husband tried for a good few minutes to pay him but he refused. So, he went off with giving him thanks.
The good news is, that gentleman is still in our contract. He doesn't drive for Uber now. He expand his business, got another two cars, and rented them in Uber and without Uber. We took rides from his driver a couple of times after the incident.
Well, it's not a 'funny' story, probably. But we still talk about this and laugh for a while about my husband's foolishness.
I hope you enjoyed it too :) Have a good day, everyone.
Photos: Streets of Dhaka, Bangladesh. (my own capture).