Delicious and healthy lunch:Quinoa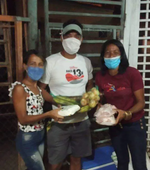 Eating healthy does not have to be boring, and much less unpleasant, many times we abandon diets for not having alternatives or not knowing how we can combine foods, or prepare them in a way that they are appetizing to the eye and delicious to the palate; I have certainly abandoned any number of diets that I find boring or monotonous, because they pigeonhole foods and make them a strict regime that does not even allow us to evaluate other alternatives. When we think that a diet or dietary regimen is not only to look good, but to feel better, having a healthier diet and therefore a healthier life is one of the most likely results we will obtain. Certainly leaving some foods aside will be difficult in the process, but with time we can make that transition and eat really healthy.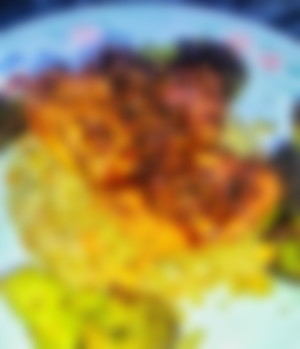 Giving up bread, cakes and sweets, has been for me the hardest task in this process, it still kills me the anxiety and the desire to eat a good piece of black forest, or any chocolate cake in the middle of the afternoon with a good cup of coffee, and come on every now and then I skip and prepare a cake for Mathias with the background that I will eat a piece to try it, but it is something I do less than before. I have discovered some new foods that are not unpleasant as I thought and that on the contrary are delicious and we can eat them without any guilt; one of these foods is quinoa, a seed that some call pseudocereal that perfectly replaces rice and even pasta in meals, that is cooked in a very easy way and that is really delicious.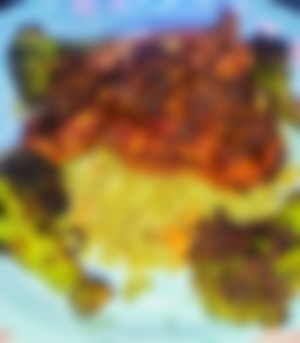 Today, besides showing you how I prepare quinoa in a way that I love, I will show you a complete menu that can easily serve for lunch or dinner, because the calories, fats and guilt that this complete dish has are practically imperceptible, plus it is an easy and quick way to prepare a complete menu without remorse and with lots of flavor.
Ingredients
1 Cup Quinoa
2 Cup Water
1 Large onion
1 Sweet pepper
1 Tbsp Salt
C/N Pepper
1/2 Medium Cauliflower
1/2 Medium Broccoli
1 Small Carrot
1/2 tsp Spicy Paprika
1/4 tsp Ground cumin
1/2 tsp Garlic powder
1/2 tsp Onion powder
4 Tbsp Olive oil
4 Teeth Garlic
1/2 Tbsp Mustard
1 Tbsp Honey
1 Tbsp Soy sauce
1 Large lemon
3 Chicken milanese
Preparation Time 15 Minutes
Cooking Time 35 Minutes
We will begin by preparing the quinoa, for this I must tell you that we must wash it very well and drain it, the quinoa absorbs a lot of water and therefore from the moment we wash it we can see that it increases its size a little, this is why we must drain it very well before cooking it, we will leave it draining for at least 10 minutes.
We continue preparing the sauteed vegetables that will serve as a base for the quinoa, for this we add the garlic, onion and chili, finely chopped with a tablespoon of olive oil and saute until the onion crystallizes, at this point we add the chopped carrot and continue sauteing for about 5 minutes. After this time add the previously drained quinoa and stir well for a couple of minutes.

While stirring the quinoa with the vegetables, add a teaspoon of salt and a touch of chicken broth if desired, this to give it a touch more flavor, but salt is enough, stir well to integrate the flavors and add the water, it is important to know that the quinoa is prepared in two parts of water, that is, for one cup of quinoa, add two cups of water, this in order not to overcook it and make it unpleasant to the taste. As with rice, once the liquid begins to dry, lower the heat to the minimum and cover to let it finish cooking.

For the chicken with onions in black sauce, we will take half of the onion and chop it very finely, and add a couple of cloves of garlic, with this we will prepare the marinade of the chicken that later will serve as a base for the sauce; we add the honey, mustard, soy sauce, cumin, pepper and salt, to continue squeezing a large lemon in this dressing, we mix everything very well to integrate flavors.

Add the chicken and mix, let it marinate for at least 15 minutes, to cook it we add it in a pan that does not stick, and brown on both sides, once they have browned well, pour the chopped onion with the marinade liquid, and if you wish you can add a half cup more water, with this we cover it and let it cook over medium heat. The onions, due to the effect of the lemon and the other seasonings, will caramelize and will make a delicious sauce with which we can cover the chicken at the moment of serving.Finally, we season the vegetables, before roasting them we will steam them for a few minutes, this to make them more tender (batteries with the cooking time, my cauliflower fell apart), once ready we season them, for this we prepare a mixture of spices, spicy paprika, salt, cumin, black pepper, garlic powder and onion powder, mix everything very well and add it to the vegetables, mixing a little, to finish adding olive oil and taking it to the frying pan, We mix everything very well and add it to the vegetables, mixing a little bit, to finish adding the olive oil and taking it to the air fryer preheated to 200 °C for about 15 minutes, turning them halfway through the cooking time.

To serve we place a bed of quinoa with vegetables and on it the chicken with a good portion of sauce and accompany it with broccoli and roasted cauliflower, for the photograph I only put the broccoli, because the cauliflower was disassembled, and well what a shame with the visit to see that picture there all ugly, but the cauliflower so disassembled and everything was delicious.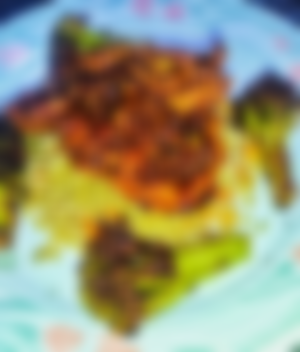 The truth is that this is a very healthy, delicious, practical and fast option and above all it leaves that feeling of satiety that many times we do not find in a diet, besides being an economical option too, because that is another factor that limits us a lot when we want to diet, we think that some of the foods are expensive and this is by far an economical and delicious option, above all.