Okey I'm back ❗ Ive been busy in noise.cash for almost 5days now and I spent my whole time as a full-time mother to my two son's and now suffering from high fever and some muscle pain. Weeks ago when my first born son having cough,fever, vomiting and even headache and maybe because of his eyes using gadgets for how many hours per day and that's my fault as a mother that I allowed them to overuse the phone each day .And also he is suffering from muscle pain in his legs and a backpain in his spinal cord . Before he's been diagnosed "ENLARGEMENT OF THE HEART" . AND that moment my whole being began to loss energy , I can't even looked up my son in the hospital knowing he has this disease and the only way is to drink his medicine for 1month and after that if he's body and energy will be back to its normal we will stop those medicines. And also he is not allowed to get tired, which involves his legs that is invest more energy to carry his body in short his not allowed na to play basketball and biking .He is just 7 years old that time when we know about his condition.
And after that happened ,thanks God that after 2years he's illness didn't come back until last week he suffered again😭 and again we go to the doctor to get some medicine and yes after 1 week he's okey .I did everything ,I never leave him even his youngest brother who also have fever last 2days ago .I don't have enough time to sleep and that's why I didn't even make my Articles here in read and I just focus on posting in noise, because every time I have a topic I can't finish it writing coz of my obligation .KAYA ayun nawala na sa isip ko Ang mg isusulat ko .After my 2nd son(bunso) get recovery me and my husband are so happy because both of them are okey and we can sleep well and recovery those days and nights that were not able to get rest well.
Until last night while I'm busy making noise on my wall in noise.cash my husband told me that "kuya" is not feeling well and he has a high fever and I posted that on my noise account. And ofcouse as a mother while I'm busy on noise I taking care of him and not even sleep .I changed his clothes ,give him milk at the middle of the night ,help him to go to the bathroom coz his legs starting to loss some energy which I am afraid off. And afterwards he vomited again and no food again inside his stomach and I am afraid that he might be dhydrated. And I ask my husband if we can go to the nearest 7/11 to buy Gatorade and it's already 1:00am 😵 but it's okey as long as my son well get better. And after 1 hour his fever reached 40 😭 and we begin to worried much ,and we are afraid to go to the hospital because we heard a news that many are now in the isolation and diagnosed as covid so we decided to treat him here in the house to avoid some precaution. So ayun na nga punas-punas Ng towel na my tubig at ice para Lang bumaba Ang lagnat Niya .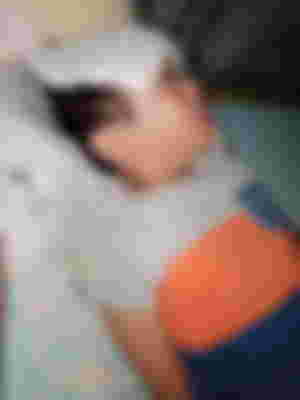 At hanggang sa gusto niyang nakasandal sa akin KAYA kinuha ko na Naman siya at natulog na nakasandal siya habang hilot hilot ko Ang ulo Niya . And I think we sleep around 3 or 4am na.
But still his fever are not yet stable to normal until now and he can't even straight Kasi Pati back Niya masakit na.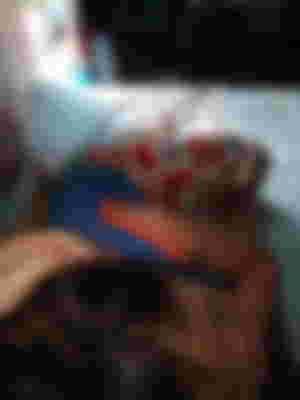 Until this morning ganito Lang kami ,naligo Lang ako at kumain ganito padin gusto niyang posisyon.
"Being a mother is not an easy job, it is an never ending duties and responsibilities that even in the last breath our mind are always thinking what will happen if I will die . "