7 years of His existence
"Happy birthday Son"
I remembered those hours or even minutes of my life when I gave birth to my son. It was 2pm in the afternoon when I began to feel the pain in my hips and tummy it's not so hurt that moment.I remembered my 1st born kuya Andrie I really don't know how to control my feelings, hold to try to zip my mouth and how to push. My first born is very different and difficult one because it is my very first time, and usually it is also the hardest time during pregnancy and labor. But to my 2nd son Robbie Stann I know how to control things I am not surprised anymore with the pain and hardship I will get. I know how to be calm if the pain will strike again,and I just stop for a moment and begin to "INHALE EXHALE" .
I give birth to him at exactly 6:00pm same as his kuya but different moment of the day, I gave birth to his kuya 6:00am in the morning of course. But during my labor with Robbie Stann I can compare how hard the feelings with my first and I can easily bear to pain to my last. Maybe because I am more prepared.Fast forward when he begin to know what is earth we started talking to him the bad things and the good one and as a mother I am happy that he grew up with a GOD FEARING AND A GOOD AND SWEET CHILD. And 1month before his birthday I asked him what do you want to your birthday?And he replied: A Bike but because of my concern I will not allowed him now to have his own not now but maybe when he will turn 10 years old. A time that he know how to control and balance everything.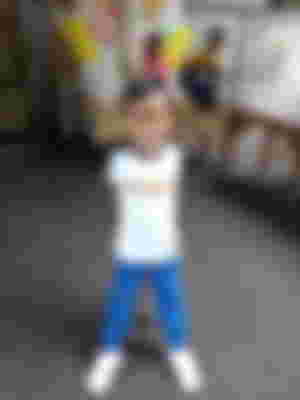 And instead I just bought a Lego he wanted to play and make some merienda for our family and friends only. I just wanted to say Thank You to noise.cash family for always supporting me in my content and photos, you made his birthday happy buy simple merienda in the table. My earnings for 10 days in the flatform make sense because of his birthday celebration. I cooked all of his favorite merienda or snacks that's why he really enjoy his day and ofcouse his Lego. Look how happy he is with his kuya and cousins during picture taking and also I took a video but I can't upload it here.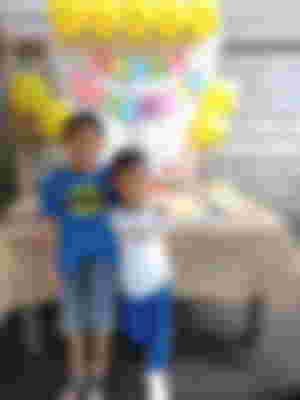 A simple celebration for mylove. His kuya really love his brother so much . And I loved them both they are my life and my world.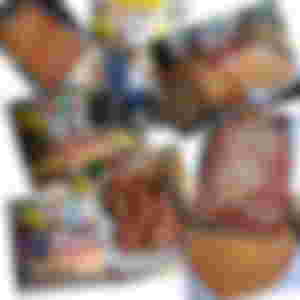 Thank you noise.cash I used to cooked this foods coming from my noise account. 10days gain ,this is where my bch savings for 10days is for . Noise.cash is really a big help also for us while enjoying the flatform we save.
7 years of his life is such a blessing for me and to the people around him . He is really a good child and a sweet child of us, as time goes by he know how to entrust to God his life,how he pray and ask forgiveness for what he did wrong each day of his life, he know how to thanks God for waking him up every morning he even make some devotion in morning and also before he sleep . Actually he really also want to be a "pastor/Engineer "someday. And it depends to God if what is for Him we will support .
And now I will thanks the Lord our God for giving me such a blessing. How he blessed me with my two son's. Lord I will offer to you my and And my family, we will allowed you to drive our life to the path where we should go . Problems may come and go but I know that you are Our God and you will not leave us nor forsake us . Giving birth with a child is also our second life for us "mother", sometimes giving birth is the end of the life for some but for me you give me another life to celebrate with my love ones.
Happy birthday 🎂🎉 mylove. You know how much I loved you and kuya and also Papa. I will do everything to make you happy .