One.Surgery at the 1st International Congress for Innovation in Global Surgery (Sponsored with BCH!)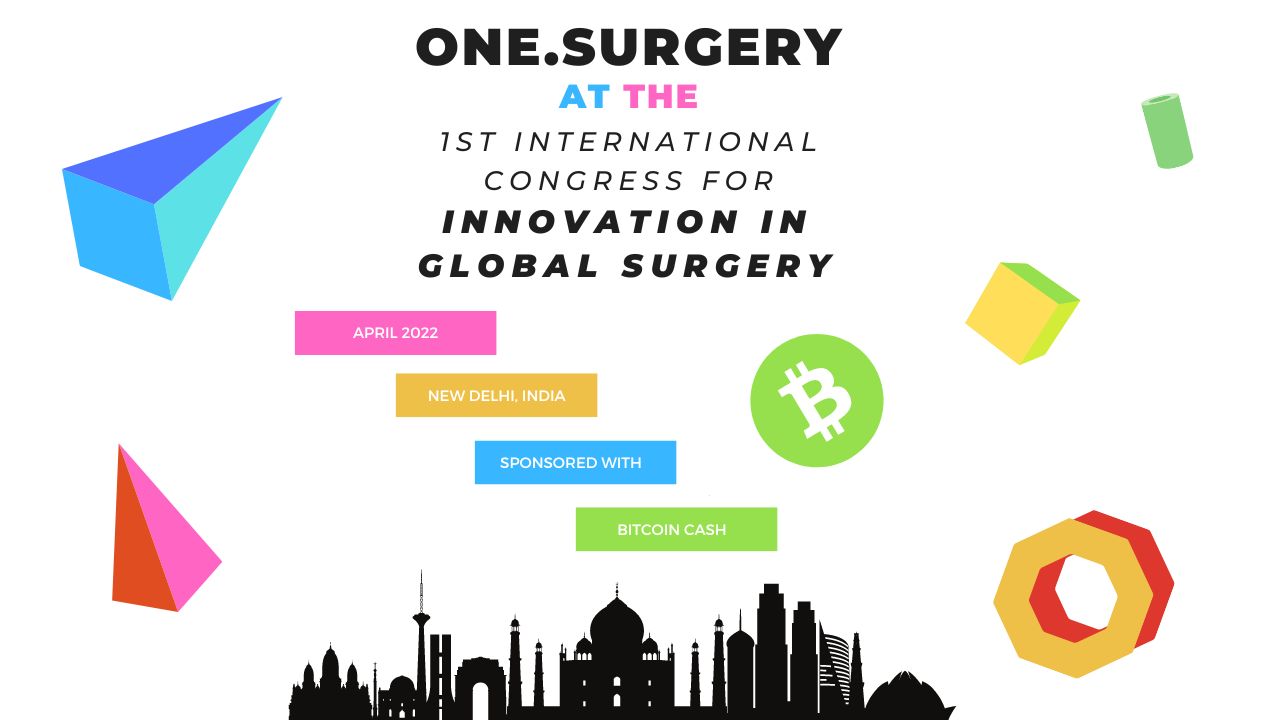 Written by Elizabeth Lacey

(Note: This article is also published in our free Voices of One.Surgery magazine - 15th issue: Digital Surgery and Education. Download the PDF for free here to read articles from all over the world related to global surgery)

Imagine if we introduce the technology of cryptocurrency to creative minds in completely different scientific fields: A new generation of innovation beckons!
As one of the conference delegates at the First International Congress for Innovations in Global Surgery said to me, "this technology is very good for a new generation of surgeons!"
One.Surgery sponsored the conference, which took place in New Delhi, India, from April 20th -21st. There, we had a booth outside where delegates could come and speak to the One.Surgery representatives about the global surgery movement, as well as all things cryptocurrency.
By signing up to our site at the booth, they gained access to our ground-breaking research journal (powered by Bitcoin Cash), research index, surgical logbook, free educational courses, magazine, audiograms, and all of our broad resources – and they also got free Bitcoin Cash! The representatives at the booth – Elizabeth Lacey and Ankit Raj– helped them to set up their wallets, and had lengthy discussions with them about the power of peer-to-peer global currency for economic freedom and global development, including how it can raise the voices of surgeons in low and middle income countries, enhancing the global surgery movement.
Dr. Saqib Noor, the founder one One.Surgery, gave two different presentations at the conference, and though he gave the talks remotely, multiple delegates came up to us afterwards to comment about how close Dr. Saqib felt, that it was like he was here in the room with us, and how much his talks had opened their mind and inspired them! His first talk was entitled "Decrypting Cryptocurrency", and the booth was totally filled with people coming to register, as soon as he was off the stage.
The following day, he was a participant in a panel, and took the opportunity to showcase some of One.Surgery's videos and really explain how innovative it is to the Global Surgery Movement to have a project entirely driven by surgeons at the grassroots, and crowd-funded using BCH. He created a lot of excitement about the project!

According to Dr. Lalit Gupta, one of the professors in the Surgery Department at Maulana Azad Medical School, which hosted the conference, "I will love to read your magazine and journal and everything supported by One.Surgery – I'm following you on Instagram and Twitter! Bitcoin Cash is a good thing, I didn't know how to use it, and now I have a platform!" And student Prem Kumar Rathod said, "its an innovative way to make publications open and accessible!"
It was so exciting watching the ideas of economic freedom resonate with the delegates as they visited the booth – some would come questioning crypto validity, and leave with huge smiles and deep understanding of its use, not just as an innovative technology for scientists, but as a currency that will raise up all people on earth harmoniously. The conversations were vibrant and deep, and with 200 delegates, the booth was always busy!
Dr. Priyansh Nathani said to us at the booth: "thank you One.Surgery! Be it your journal, or Bitcoin advocacy, or research advocacy, you get it. Bitcoin seems fascinating as all – it seems like a great investment, and especially as its usage in global surgery seems promising."
Dr. Priyansh was also one of the winners of the award for Innovation Challenge at the conference, and was super enthused to receive his prize in Bitcoin Cash.
Overall, we distributed 5.41 BCH to 48 people, including 13 people who won awards for their Paper Presentations, and others for "The Most Valuable Innovation". The prize winners were all entrepreneurs in engineering and medicine who were exposed to cryptocurrency for the first time, through our efforts.
It was so fast and easy to distribute the prize money, and they were all so happy to receive it instantly to their wallets.
It is clear that innovations in tech and innovations in health go hand-in-hand, and this was just the very beginning of demonstrating BCH use-cases to the public within the Global Surgery Movement – we look forward to more to come!
(Note: This article is also published in our free Voices of One.Surgery magazine - 15th issue: Digital Surgery and Education. Download the PDF for free here to read articles from all over the world related to global surgery)