Documenting Bitcoin Cash in the Philippines (Flipstarter Backup)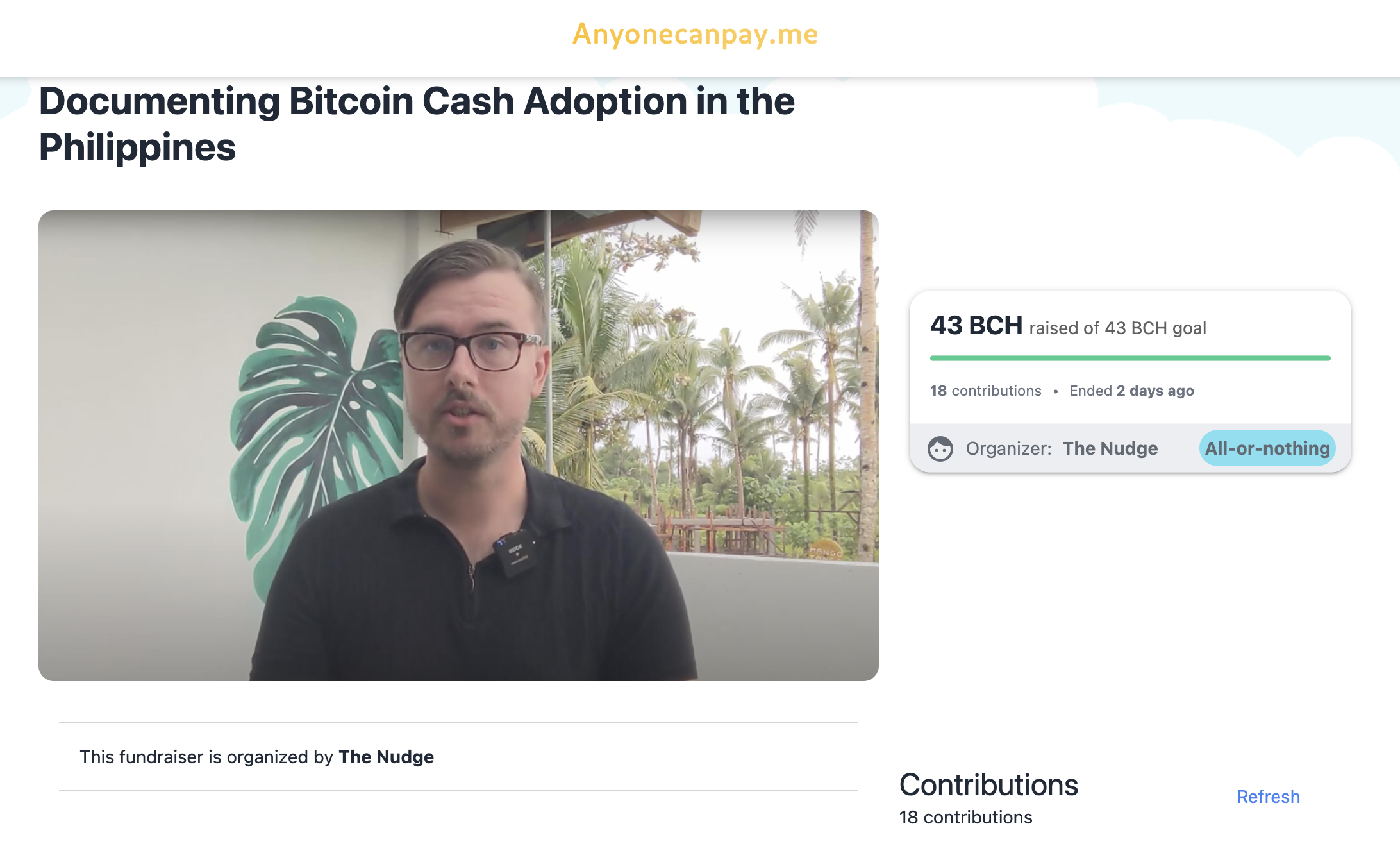 My first Flipstarter was successfully funded. This post serves as a backup if/when the original campaign page goes offline. While I did use IPFS (which means it could be online forever), this depends on other people who host local copies. In addition to my local backup, ReadCash will be a repository for future reference. You can also find project details on my subreddit /r/nudgetravel. Thank you for your support.
[Watch the Flipstarter Launch Video](https://www.youtube.com/watch?v=dq_UD2sy9nA)
Why the Philippines?
Those that have been around the space for a year or more will be very familiar with the enthusiastic Filipino users on platforms like [Read.Cash](https://read.cash), [Noise.Cash](https://noise.app), and of course various BCH games. This island country of 109 million is really excited about electronic cash! Well, at long last, I am finally able to visit the Philippines, and share the story of what's happening with Bitcoin Cash adoption in the country. I've been in conversation with the folks at Paytaca, the company behind the Paytaca Wallet, and most recently featured in the [Satoshi's Angels December newsletter](https://read.cash/@SatoshisAngels/bch-weekly-news-111-december-19-2022-52fc757a) for their brand new POS software for merchants. Paytaca wants to not only onboard merchants in their headquarters of Tacloban City, but also across the region in the Philippines. [Paytaca completed their own Flipstarter 7 months ago](https://flipstarter.paytaca.com/en), and I want to share what they've accomplished. I traveled to the other side of the world to meet them and find out what their accomplishments and plans are. It's been a very exciting journey!
In addition to meeting with the Paytaca team, I aim to understand the state of crypto adoption and cashless, mobile payments in general. There is a lot of potential here. Overseas Filipino Workers make up a larger population than even their home country! These migrant workers are in cities all around the world, and they all remit (send home) payments from the money that they earn. Remittances make up a large percentage of GDP, they also represent an opportunity to improve lives, save families money, and to make it easier to make payments and do business in this cash-heavy economy.
To be Delivered:
Recognizing the importance of clear communication and accountability, my focus is not just to raise money to cover my expenses for this trip, but also to provide educational content that will both inform and inspire Bitcoin Cash community members heading into 2023. The first long form video from this series will be published on the day that the Flipstarter is funded, with the second going up the same week, a short shareable demo of the Bitcoin Cash vending machine published on [Tiktok](https://tiktok.com/@nudgetravel) and [Twitter](https://twitter.com/TheNudge4), and the remaining long video of the new merchants in Tacloban the following week! After this I will be hosting a Twitter Space where I discuss the accomplishments of Paytaca and my project, and I will have the CEO of Paytaca, Joemar Taganna to join me for this talk! For accessibility, a transcript/summary of the project videos and the space [will be published to my Read.Cash](https://read.cash/@nudge), and I will be publishing links to all content on both Bitcoin Cash subreddits [as well as my own](https://www.reddit.com/r/nudgetravel/). Long videos will be published to my [Youtube](https://www.youtube.com/@nudgetravel) and [Odysee](https://odysee.com/$/invite/@nudge) channels, and you can also see updates (including when my Twitter Space will take place) by [following me on Twitter](https://twitter.com/TheNudge4)!
For clarity, these are the items that will be created and delivered as part of this project:
* Paytaca Part 1 (Long video interview about my #traveloncrypto journey)
* Paytaca Part 2 (Long video interview about the origins of Paytaca, the wallet, POS software, and general aspirations)
* Paytaca Bitcoin Cash Vending Machine Demo (Short shareable video to be published on Tiktok and Twitter)
* Paytaca Part 3 (Long video visiting new BCH accepting merchants in Tacloban with Paytaca and discussing their plans for 2023)
* Twitter Space (I recap what was learned from the previous videos, and also talk with the CEO of Paytaca, Joemar Taganna about what's next)
* Read.Cash article (Recap in text what the videos accomplished/what we learned, as well as some notes on the Twitter Space)
In all, there are 6 pieces of content being created from my visit to the Philippines for Bitcoin Cash Adoption.
For my efforts in promoting Bitcoin Cash and sharing the exciting news of what's happening in the Philippines, I am seeking to raise 43 BCH, with a value at the time of campaign publishing of $4377.
Budget Breakdown
In the interest of transparency and education, I want to lay out what your donations are going to:
* $2772 for transportation: flights (to/from Philippines and domestic), ferries, vans, buses, motorbike rental, cabs
* $840 for hotels and food (21 days)
* $20 for internet
* $200 for equipment payments
* $545 for post-production (editing) and data storage
Previous #traveloncrypto work
I've been making videos about #traveloncrypto since April 2021. It's because I believe so strongly in permission-less electronic cash that I started The Nudge. Below are some videos that I've already published. I'm also a very active ambassador on Twitter and Reddit!
[Videos from Colombia, El Salvador, and Mexico](https://www.youtube.com/playlist?list=PLyEWNx_cWHC4wfAbn2WNsstkv6pwV51rZ)
And also from Malaysia:
* https://www.tiktok.com/@nudgetravel/video/7170903371652681003
* https://www.tiktok.com/@nudgetravel/video/7171813456037956907
What's next?
If this Flipstarter is successfully funded, not only will you see videos and learn about what's happening with Bitcoin Cash adoption in the Philippines, but I'll also be strongly motivated to continue projects like this. I have plans to travel to a variety of places over the first six months of 2023, and with the support of the BCH community through this and future fundraising, it will be possible! Even in a bear market, crypto news is not slowing down, and I want to share this journey in many countries. Help me get there, and finish off 2022/ start 2023 by donating to this campaign!
Thanks in advance,
The Nudge