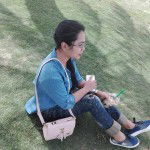 hey👋👋 here's more diet foods for you guys😉
ingredients;
10 asparagus spears(or you can add more if you like)
3eggs
1/4cup fetta cheese or white cheese as what you like.
1/2garlic clove
1green onions
1tbsp.milk/water
salt and pepper(small amount)
1 1/2 tsps. olive oil
preparations;
in a large skillet(frying pan),cook asparagus in a small amount of water for 6 to 8 mins. or until tender,drain. finely chop the two spears, set aside the remaining asparagus.
in an non sticky skillet or frying pan,saute the onions,garlic and the two spears chopped asparagus in olive oil until tender. in a bowl whisk the eggs,put the milk or water,salt and pepper then pour it to the skillet. tilt the egg to the both sides of the pan and while its runny put in the remaining asparagus spears same as the photo i showed you above,sprinkle with cheese and cover the pan. cook over 3 to 5mins. and its ready to eat.
hope you like it guys😊
subscribe for more diet food tips😊👍