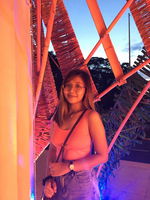 My last few weeks have been indeed exhausting. I spent literally every single day in studying and doing things related in academics. Maybe that is the reason why I am currently markes as spam here on read.cash now. I was too busy to the point that I became out of focus on my blogging journey. Stressed, haggard and tired— imagine having almost 3 hours sleep only per nights just to finish all of my pending tasks. Besides, we are now on finals, which means we need to comply all of the requirements and take every test as soon as possible. Our teachers are already computing for our quarter 3 grades, and preparing for the last quarter this school year. When I feel like giving up, I remind myself that after 2 months, we will have our break. And finally, I will enter last year of being a junior high school. It motivates me, however, stress is trying my patience and my whole system too.
So my bestfriend, who was too busy with acads lately, and I decided to go for a picnic— slash a garden date. Our favorite spot would always be UP Sunken Garden near us, fortunately, it was open. It was a spontaneous date, I sent her a chat just this morning and she agreed. Supposedly, we were going to a 3D Cafe that we have never tried before, but she requested to go to somewhere we can breathe— I responded definitely yes, as I wanted to unwind as well.
When we are about to ride a bus, we saw a fruit vendor, and to our surprise, he sells a lot of fresh melons and watermelons— which are our personal favorites. Without being hesitant, we bought one whole each and we also asked the vendor to cut it for us. We paid for about less $2. Good thing I remembered that we did not bring any sheet for our set up, and luckily, we passed by a thrift shop and found a huge vintage polo. The design was so nice, and it matches our outfit too. It was a sunny day earlier, so I've expected that there were a lot of people we will hang out with around the garden.
We stopped by McDonalds to buy spaghetti and drinks. Suddenly, I recalled the pre-pandemic times when we go here after church service. A lot of people are eating, chitchatting and going in and out— but as we enter the store, there were few dine in customers and it makes me sad. Hope things will get back to normal sooner. I know others miss going to fast food chains as well. Since customers are few, we got our order fastly. Then a minute of walk after, we went to 7Eleven, a minimart shop where we got some chips and tried to find a disposable plate where we can put our fruits. I know, we should have brought a tupperware. But like what I have said, this picnic is unplanned well. We were unfortunate to purchase a plate so we just let it and head to the garden.
The smell of the fresh grass— made my mind relax for a while. We ate, talked about random stuffs and of course, told how we miss each other. She is my companion as always, and the past few months were the moments we were unable to bond for a long time. Plus, we were the only walk ins and found some people jogging and biking. How we wish we also brought a bike with us so that we can enjoy the view without walking too far. We took a lot of pictures and film ourselves while eating. That 3 hours of my life a while ago somehow made me reflect, chill and rest my mind. After weeks of working hard, I know to myself that I deserve this rest. We went home before the sun went down. Even though it was just a little time and caused us some hassle, it was worthy our efforts. We will be facing another set of trials and hardships for tomorrow and the next days.
If you ever think of quitting, just rest. We, humans, have limitations too. Never abuse your physical and health— hence, never feel bad about taking pause and spoiling yourself after being too productive. After all, it is yourself who will benefit and earn from the balance life you enjoy.
---