Beautiful night view of Barcelona, El Poble-sec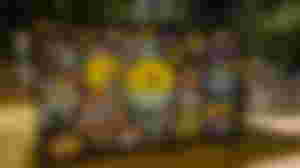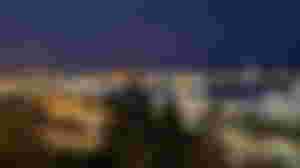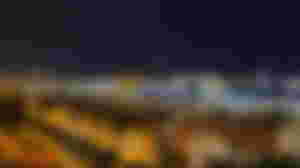 On the last day of our trip to Spain, my friend and we decided to enjoy an authentic Spanish dinner at 🥘Terraza Martínez🥘, El Poble-sec, a restaurant overlooking the Bay of Barcelona. The food was delicious, but the night view from El Poble-sec, which is located on a hill, was truly beautiful.
🥘Terraza Martínez🥘, the best food I had in Barcelona, Spain - 08072022
@mizuosemla/terraza-martinez-the-best-food-i-had-in-barcelona-spain-08072022-hive-150329
🥦Mizuo's Travel Blog🥦No.25 - , Sitges beach, Spain, Aug. 2022
@mizuosemla/mizuo-s-travel-blog-no-25-sitges-beach-spain-aug-2022
There are many ferries departing from the Bay of Barcelona, and there were several departing from the bay when we were there.
El Poble-sec is a high point from which you can enjoy a panoramic view of Barcelona, and I felt that I would like to take the cable car to the Bay of Barcelona if I have a chance to come back next time. Unfortunately, it was already closed when we visited there, but we will save it for our next visit.
After enjoying the night view, we decided to walk a bit, because we were full after enjoying our meal at the restaurant. Plaça de Catalunya is only about 30 minutes away from the restaurant, which is a good distance, so I decided to take a little walk around Barcelona at night.
https://www.instagram.com/devie.ngu/
https://www.instagram.com/p/ChDlvF3IwlT/
We took a cab to the restaurant, and I was very interested in the street art I saw in the cab and decided to go see it. I was very happy to see the street art on the way to Plaça de Catalunya (Plaza Catalunya).
At Plaça de Catalunya (Plaza Catalunya), there were many stalls at night, selling many miscellaneous goods for tourists and street performers (street performers), which was quite enjoyable. I was pickpocketed on my way back from the beach that day, so I was very wary of these tourist attractions.
I had a really good memory of walking around the old town of Barcelona in the summer night breeze. Barcelona is a city of many tourists, and it is true that some tourists are targeted by pickpockets, but I found it to be a city with so much charm that many tourists visit every year. I felt that I would like to come back to Barcelona for a week or so next time.
🥦 ᚨᛚᚢ 🥦
🥦 Ha det så bra!🥦
🥦See you again!🥦
🥦ほなまたねぇ~🥦