Top 9 NFT and Crypto-Themed Restaurants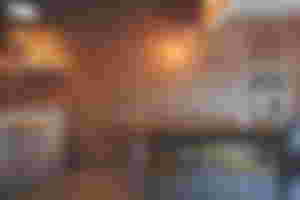 NFT is the future of fine dining. Seeking to combine the best aspects of crypto and restaurants, NFT restaurants are inspired by the power of decentralization and blockchain technology to radically improve the restaurant industry.
THE WHAT?
In December 2021, the Crypto Street Restaurant in Clearwater Beach, Florida, launched.

The restaurant's menu features a variety of dishes, including South American and Spanish cuisine as well as Native American burgers.

Each dish's name is linked to a well-known cryptocurrency.

For instance, sandwiches are labelled "Crypto Cuban," hot dogs are "Dogedog," brownie sundaes are "To The MOOOONNN!" and salad is "DeFi caesar".
2. Dogeburger
THE WHAT?
The first restaurant in Dubai with a cryptocurrency theme is Dogeburger.

It enables users in the UAE to place cryptocurrency orders for burgers and other food items.

The online retail e-commerce restaurant, which launched in February 2022, seeks to make ordering food easier for cryptocurrency owners.

And spread awareness of the cryptocurrency industry to the United Arab Emirates' underserved market.

It was introduced by Rocket Kitchens, a chain of virtual restaurants, and was modelled after the well-known meme coin Dogecoin (and meme).
3. Flyfish Club
THE WHAT?
The website for Flyfish Club (FFC) claims that it is the only NFT restaurant in the world with a private dining club that accepts NFT for membership.

You must purchase the membership on the blockchain using NFTs, hold the token, and then you can use the restaurant's different services.
4. Welly's
THE WHAT?
This is the first Shiba-Inu-inspired fast-food restaurant in Napoli, Italy's Sannazaro 4, 80122.

Leading Shiba Inu developer Shytoshi Kusama revealed a novel and unique SHIB-based restaurant called Welly's in February 2022.

With tasty foods bearing the SHIB label, this partnership is likely to help Shiba Inu receive widespread exposure.
5. Piya
THE WHAT?
Piya is another restaurant with an NFT as its base.

This Miami restaurant concept is still in development.

Chef Bee, also known as Piyarat Potha Arreeratn, is best known for his Miami restaurant Oishi Thai, which debuted in 2005.

It planned to enter the NFT market in February 2022 by hosting Piya, the first NFT restaurant situated in Miami.
6. Goi Rolls
THE WHAT?
Unquestionably, one nation that is making use of the restaurant industry is the United Arab Emirates.

At least two businesses have started offering food NFTs for sale.

On its Web 3.0 site, GOI Rolls asserts that they are the first restaurant in the UAE to produce exclusive NFT summer rolls.

Users may redeem 50% of each NFT's worth for actual food at their Jumeirah restaurant.
THE WHAT?
The NFT cafe Lion's Milk Coffeeshop offers profile picture NFTs, also referred to as PFPs.

The cafe frequently holds the distinction of being the first NFT cafe because it showcased a variety of NFTs in November during the New York City NFT display.

Additionally, it is committed to accepting cryptocurrency for in-store transactions and also organizes events for NFT groups.
8. CamboFlare
THE WHAT?
While the adoption of cryptocurrency payments in the restaurant sector in the United States has been somewhat slow, some restaurants, like CamboFlare, are making attractive offers to draw the ordinary person into the crypto sphere.

The restaurant's menu features a variety of foods, from American dishes to Native Asian dishes.

Some of these include a grilled pork taco and a soup made with king oyster mushrooms.
THE WHAT?
Chef Brad Miller and restaurateur Luke Tabit have tried and tested hundreds of burgers over the past six months.

The two friends and former employees tested various cheese slices to observe how they melted and tasted in order to make a new delicious burger.

The "Fancy Boy," an NFT of the famous "Burger Boy," depicts the iconic youth in a more formal outfit with a bowtie, moustache and tophat.

Other alternative figures include the "Moon Boy," a space-themed burger boy counterpart who wears a space helmet.
REFERENCES:
DISCLOSURE:
None of these articles constitute financial advice. Articles are highly summarised to make it easy for the reader and save your time, so please DYOR further before putting your hard-earned money into any product mentioned.
Please note that the tech industry evolves rapidly and the info in this article is correct at the time of publishing. As Heraclitus said, "Change is the only constant," so if anything sounds old or off, please holler on the socials or comment here so everyone stays peeled.
Affiliate links are included in these articles, and signups through them are highly appreciated. These links support better research, quality writing and help you find products with less hassle and at times with discounts included, so it's a win-win :) Great care is taken to ensure the links are from authentic, non-spammy sources.
Stay up-to-date on the latest stories by signing up for our newsletter. Please don't mark these emails as spam, instead, you can easily unsubscribe, if you feel we are bothering you.
Please do follow, like and engage with all our Medium blogs/publications at these links:
NFTs: https://medium.com/@NiftyRevolution
Crypto: https://medium.com/crypticpedia
Property: https://medium.com/@buypropertyeasy
Software and Tech: https://medium.com/@quanticoresol
If you found our articles beneficial please donate to the ETH crypto address magnolius.eth or via traditional fiat by buying us a coffee at https://www.buymeacoffee.com/niftyrevolution or ko-fi.com/infolius.
We are not eligible for Medium Partnership simply because of our location :( nor are we able to monetize our content in any other way except affiliate links, which isn't so great too. Your donations will be put to good use to help create better content and keep us jolted to strive for the best :)