Litecoin Halving is Approaching
Just 4 HRS have remained. You warned today that Litecoin (LTC) halves, don't be FOMO it is today at 14:33 UTC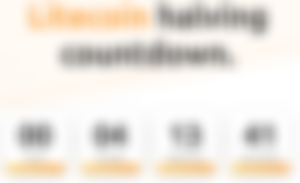 As we are going to experience Litecoin halving two things might happen:
1. LITECOIN to Dump Hard (Fake Breakdown)
Or
2. LITECOIN to Pump Hard (Fake Breakout)
So you need to be careful because whales must play with people's mindsets and avoid losing your money quickly.
Holding is the power for your success especially by concentrating on the Spot market rather than trading on the Futures Market. You know I am holding 37.8 this time and I am nervous at the same time because I am not expert in crypto market and I have never experienced the halving process and this is first time that I am going to observe the halving. I just have had future trading almost 4 times. This time I am experience in spot staking. Let's see what will happen.
I have deposited $38 last night into lite coin. But to my bad luck in just matter of seconds I saw that my wallet was draining and the amount started decreasing and it reached to 37.80 and later on it reached to 37.17. $37.17 is bit low in comparison to $38 but I am all satisfied and I am thinking just positive about halving. I am sure that I will also get reward in this process. Super crazy for it.
I will give you update about it. As you know just 4 hours are remaining so if you also want to experience halving and wanna see two opposite positions then you should hold dollars in your Litecoin wallet.
A very good luck to all of you guys ! Stay happy 😊