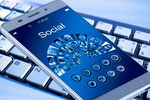 Hi, here is my latest digital creation👨‍🎨.
📱Used android apps: Art Filters; Photo Lab; Finalhit; Comica "Game Brain"; Mirror Lab "Ilixa"; picsk_official; Adobe Photoshop Express; Photo Editor Pro (InShot Inc.); StoryZ; XEFX Pro; Mosaic art lab; BeSticky.
Do you like this digital creation? Want to see more? Start following me… 
Follow me, put ❤️, comment and share my posts…
What is your secret to getting your artwork right?  Leave me a comment!
Greetings 👋