Time, Money & Energy Never Come To You All Together
Article #29 March 31, 2022
I never got skeptical of scrolling up and down for over an hour looking for a good topic to present to you. Finally, I came upon a Facebook acquaintance who shared a photo of the Young, Adult, and Old in their diverse situations. Time, money, and energy will never come to you all at once. There is always something lacking in you, whether it is time, money, or energy.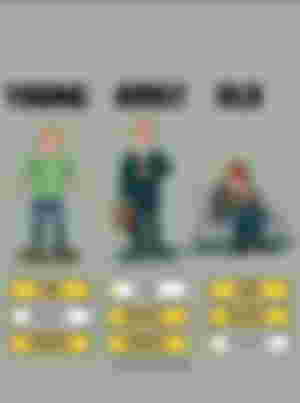 Source of the Picture, click here.
You don't have much money while you're young. You have a lot of time and energy since you are constantly available to go out; the only problem is that you don't really have much money. Even if you're able to travel freely, you don't have any money to spend. Because I constantly have no money, I sometimes feel myself to be youthful. Haha. Alam mo yon lagi nalang dahilan ko wala me pera. But, come to think of it, being a young person does not need having a lot of money, but rather focusing on your studies or enjoying with your companions. If you are still young and want to do anything or go somewhere, you must save your allowance or negotiate with your parents to give you a reward when you perform well in class. However, not all parents are like that; it is essential to enjoy your youth since one day you will wish to be young again.
As an adult, you have money and energy, but you don't have time since you're too busy grinding or working. You are always the sort of person that rarely attends parties or special occasions in your circle of friends or relatives. You missed the majority of the reunions that took place over the years. The real kicker is that you are earning your own money and are free to eat anything you want when you are craving for something.  You are free to browse online shopping and check out the things that you wanted to purchase. Isn't it good to be in a position where you are financially secure and can treat your family or friends once in a while?

However, just because you are an adult does not imply you have money; there are some individuals who are too lazy to study or work and are still living at home with their parents, and their parents are the ones who provide for them. I am that person. I'm in my twenties, but my mother is still supporting me; I didn't have a job when the pandemic began because I'm hesitant to work on the field.
There are four different types of adults in this state;
There are individuals who do not have a job or a business. This is the kind of person I was referring about earlier. There are several reasons why people are unemployed, and I have nothing to say about it. We cannot criticise or denigrate a jobless people since they have a reason for being unemployed, and we are not in a position to intervene.
Adults who work 8 hours a day fall into this category. Those individuals mostly work in the public sector, the corporate sector, or the market on a part-time basis. There is a lot of effort that is necessary to work 8 hours a day. I used to work 8 hours a day for the minimum wage. Those who work 9 to 5, their incomes range from below the minimum wage to the minimum pay and above the minimum salary.
Self-employed folks are those who do not work 8 hours a day or do not have an employer in this state. These are the people who work for and are accountable to their businesses. Those who own a business, drive a tricycle or other vehicle, freelance, work as a virtual assistant, and so on are examples of self-employed individuals. Writing an article on this platform might potentially be considered self-employment.
This is the type of person I'm working on these days. Those business owners who have a business that is fully operational and making money while you are at home relaxing. Their revenue is based on sales, and their money is growing by the day. The excellent thing is that you have no boss at all.
Whatever sort of people you are in this phase, you have a reason or have been through a lot to be in the stage of your life that you are in right now.
You had money and time in your prior life, but you lacked energy. Even if you can afford to go on somewhere and are free to go, you can't since you seem to have limited energy as an elderly person who is often tired. However, there are still old individuals who are joyful and enjoy life since they have full vitality at good moments.
I now personally believe that time, money, and energy are never allotted to you at the same time. What role do you play among those I've mentioned? If you were to ask me, I would say that I am a young adult. I have a lot of energy and time, but I don't have much money. But there are times when I have money and energy but not enough time. It is determined by the current circumstances or crisis in my life. I may also claim that I am unemployed but have a small business and am self-employed because I am now working as a social media manager. It is not easy, and at times I consider stopping one of them so that I may focus on things that will lead to my success in life in the near future.
My sole concern now since I am still young is that I should work hard in order to be successful in life. I once noticed an article that said we should start our own businesses since it can provide us with a reliable source of income and we never know when they may dismiss us in a current job. It is not a major issue if you have a business. Even if you were terminated, you still have a source of money.