My Bestfriend Cheated on Me
"He was playing the same game he's familiar with, but he unfortunately picked the wrong woman to play with."
(Disclaimer, this is based on a true story although some conversations may not be exactly what was said but still with the same thoughts and ideas. Also please be guided that this happened 2 years ago, completely my point of view and I do not want you to misunderstand anything written in here. Thank you.)
It was a fine day of June 2019 and classes are kicking off just fine. The start of my 12th Grade journey was sailing smoothly as I was bracing myself as a student council officer. I was with the same section from last year and we pretty had the nicest bond among all sections in this private institution.
It was a normal day, not until we were called for the weekly meeting as the school's upcoming Foundation Week is near on the calendar. Before the pandemic hit, our whole school is crazy over all week-long celebrations. Parties every after contests, free foods, nice horror rooms and pretty intense competitions.
A few days later after the meeting for the upcoming competitions including the criteria, rules and designations for everything, I was assigned by my Cluster Governor (since I was a Cluster Treasurer at that time) to handle and keep and eye for the Hip-Hop dancers and since he knew I know some basics about dancing. I didn't have any violent reaction about it not until the actual practice with the dancers came and this is where the whole story gets interesting.
There was this guy named "G". He was actually a good friend of mine since we were in 11th Grade. Although he was from a different section but we share mutual circle of friends and we often hang out with the same group for some time. We also ran together for the elections but he was unfortunately lost to my (current) Governor so he stayed supportive for our cluster as a dancer and ur futsal captain. He was a part of our dancers so that really made me happy since we were already pretty close. Even before we were having casual and continuous conversations and chats, we were already becoming a 'thing' for our circle of friends but that really never bothered me, not until he asked me to come with him and watch a soccer game that same summer in 2019 in exchange for his absence on my 18th birthday a month before that day. We were best friends at that time so I didn't really minded it and accepted his offer. I ended up going back to my dormitory at 12 midnight and locked myself outside because I was past over the curfew so I had no choice but to come with him on their house to sleep for a night. His parents were pretty close to me so it doesn't really bothered them as we're both god friends. I slept with his mom and that ended the interesting night I slept out from my dorm for the first time. 
To cut the story short, we became a 'real' thing and dated a few weeks after the school year started but no one knew about it for a week, not even our closest friends. We had no idea they were actually had very keen eyes and had noticed the changes on the both of us as we eat lunch after the morning classes together. I even waited for him to finish his futsal practice on our school grounds and would come with him for dinner before he brings me to our street before going home.
We were not supposed to get ourselves involved with each other. Me, I AM NOT supposed to get involved with this man. I knew his history because he was my best friend. He was a literal playboy and I really saw the RED FLAGS but I blinded myself with my own hands. I liked him and I was a fool. I didn't thought twice and it broke me big time.
A week after the continuous practice of our dancers, he started treating me coldly. At that time, everyone from the campus who knows us had the idea that we are already in a relationship. I was confused as he was acting very weird. He's usually quirky, loud and very stubborn but a week (exactly a week) even before we reach our 1st month, he broke up with me with no big damn reason and I was left hanging my own mouth, asking myself "what the hell did I do wrong?"
The practice goes on and as usual, no one knew about our sudden break up. Everyone was happy and was thinking this sh_tty man has already found himself the woman who can change his life but nothing really changed. I was the one who changed. He changed me into a woman who can actually make him regret all of his life decisions. I was still involved with the dancers and I tried my best to look strong and unbothered. I acted normal and no one really thought we actually broke up, not until they noticed that we were not coming in and out of the campus together anymore. And things got more interesting on this part.
So I got my sh_t together. Yes, I know my worth as a woman. I know I did my best. I was loyal and I really loved him and I never faked anything. I know I didn't do something wrong for him to play with me like this.
That same week we broke up and and exactly a week before the actual dance competition, his random friend... a woman, told me they've caught this "G" with a different woman. Not a woman, but a girl. A girl, a year younger than me and what surprised me was that this girl was a Mayor under the Cluster I was held responsible with. What a small world but I know I am out of the picture already so I didn't mind it and told her that "I don't care and I am not meddling with them anymore." Days after "G" knew that I knew about this girl's identity, he messaged me and asked me if we could talk over things and come back as a couple again. Well I'm not f_cking with anyone around anymore. I firmly said "No." and told him "Go find your girl. She might be needing some attention, right?" Some of his friends then told me that they were seeing each other even if we were already in a relationship and that really made me laugh. What a prick he is.
I then intentionally messaged the 'girl' they were talking about. Don't get me wrong. I didn't talked bad about the girl because I didn't really knew her personally. I just messaged her and started a smooth conversation. I asked him if he knew "G" and eventually, I caught her realtime as she replied "I'm sorry if I became the reason why he broke up with you. I didn't knew he was dating you already when we started talking and I started liking him so much." That made me slap my own face. She's a woman and I am not the only one being cheated on, but this poor girl also. I told her "it's fine." And proceeded to ask "are you sure you'll gonna be loving "G" enough that he'd get satisfied?" Because I know, men like him doesn't get easily satisfied  all their life. A cheater will always be a cheater, unless they get hit right inside their tricuspid and mitral valves. She said she was sorry and told me she wasn't confident at loving "G" and even told me that she'd love to see us back together, so I told her that I AM NOT COMING BACK ANYMORE with the man who broke my heart even if he starts to beg me for it to happen. I told the girl that we were both cheated on. A man that is easily stolen can easily dump women like us so I told her how we should be prioritizing our worth as women. I didn't ordered her to break up with him. I just told her that I am not giving a damn about their own decision within their relationship as I am already out of their crazy businesses.
"I love you but I pity the girl." It was the most deafening stupid words I ever heard my entire life. I told him "Look, if you're searching for a pass time, not me. I don't like play games especially with "love-noobs" like you." He's not worth it. I despise men like him. I don't want to see myself begging for half-love because I know someone can give me their whole love and attention to me without any parties and will not make me doubt about my worth.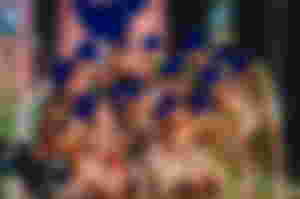 I eventually dropped all of my connections with the both of them and acted like nothing happened. The competition was held and we were champions on the hip-hop competition. I hugged everyone except him and of course everyone told me that he was indeed, not worthy of my being. I started working on myself and kept myself busy with cluster works and hanging out with friends. I started gaining more confidence on my academic standings and even on my looks. I only heard from my friends that they ended up breaking with each other after a week of the competition. Not my business, anymore.
I'm better off without him, anyway. I am still that same confident, strong-minded, wiser and independent women he can never have. Not again.
Sponsors of joy_to_the_world