We have reached the end of May and that means once again we have reached my favorite time of the month.  This is when I calculate all of the income I have made with crypto for the month.  At the beginning of the year I set a lofty goal of reaching a crypto income of $2,000 per month by the end of the year.  Every month I had been able to increase my result and was inching closer and closer to my goal. In April I had reached over 65% of my goal.  But then the market collapsed in May and that did have a large impact on my performance for the month.  But talking into account what had happened, I am still very satisfied with the end result.  This is the cryptocurrency market after all.  
During this month; I once again focused on lending BTC, staking ETH, and also blogging about cryptocurrency.  I have been moving my bitcoin around to different lending services after using BlockFi for a length amount of time.  I don't do this articles to boast, but to help motivate myself and also it will help others to begin, or continue their journey towards financial freedom.
So without further delays, let's go more into depth.
Publish0x
I continue to be a big fan of the Publish0x platform and have seen great success over there.  My posts here generally do consistently well and stay around the same performance level.  I find that users here that post more consistently; do the best at growing their follower base, and that is what helps their posts perform better.  So if you are interested in using this service; don't become discouraged, continue putting out great content, grow your follower base, then more and more successful will follow for you.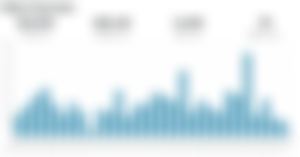 At the time of writing I have been able to reach 3,371 followers and have seen steady grow.  My next goal is to hopefully reach 4,000 by the end of June or July.
Total = $92.48
Read.cash
I remain constantly surprised at just how well I have been doing at Read.cash.  As far as each articles performance, it is by far my most consistent place to use.  I also am a fan that you can withdraw your earnings at any point and it is instant.  I am wondering about the longevity of the service though; as there isn't much interaction on each post.  The website is living off of the donations by its founder.  
Total = $140.36
Hive / LeoFinance
Hive and LeoFinance have been far my best performers the last few months and that continued this month as well.  While my numbers are very good for the month, they could have been even better if it weren't for the price drop during the month.  At one point Leo had gone down 70%, and Hive and least 50%.  As the market recovers, these coins will recover too.  While this is my best performing platform, it is also my most inconsistent.  I have a few posts that really breakout in popularity.  And then many that do next to nothing.  I am working hard to get more consistent results here.
Hive = $60.57       LeoFinance = $134.73
Total = $195.30
This will be the last time that you will see me post about Uptrennd, as the website is actually closing on May 31st.  And I actually stopped posting there after I learned that news.
Total = $0
My blog on Substack continues to be available for free, and I am not yet concerned about making any money here.   Instead, I am hoping to build a community that in most respects I "own" and control.  I have seen steady growth here and am excited for the future.
Total = $0
Celsius
My new go-to lending service for bitcoin has been Celsius.  Because I am a user from the USA, they do offer a very attractive lending rate of 6.20%.  I love the fact that they pay out weekly, and withdrawing is free.  I also appreciate that you can withdraw at any time, day or night.  Weekday or weekend. And even on the holidays.. My "lending profits" this month while in terms of btc received is actually higher, but because the price of BTC drastically dropped; that means in terms of dollars, my profits dropped a lot as well.
Celsius Total = 0.011559 BTC ($404.56)
Ledn
Next, I have been exploring other leading services outside of BlockFi.  This month I have been trying Ledn.  They offer a great interest rate, website is clean and the support is friendly.  Downsides are that the mobile app is barebones and not a great image in my opinion.  Also it can take 2-3 days for withdrawals to go through.
Ledn Total = 0.0011 BTC ($38.50)
Ethereum 
I continue to stake a modest amount of Ethereum to gain a passive income.  For a majority of the month I have only been using Kraken to stake, but towards the end of the month I began to stake ETH at Coinbase as well.  Which I will document next month when the results are worth adding up.  While my rewards are still small, I'm very satisfied with them and am motivated to grow it even further.
Total = 0.02012 ETH ($48.28)
I was thrilled with how well I was able to perform during the month of May, especially considering how much the price drops affect my lending/staking earnings, and also my blogging earnings as well.  If the prices recover, next month I imagine my totals could be at least 40% higher.
While at the end of the day this isn't a huge amount of money; it is all being reinvested into the cryptocurrency market.  It is amazing just how quickly things can compound when doing this.  I'm already excited to get started during the month of June!
How about you?  What are you doing to earn a crypto income?  What challenges have you encountered?
As always, thank you for reading!