My Crypto Earnings (July)
July has officially come to an end, and that means that it is once again my favorite time of the month.  It's the time that I calculate and add up all of my crypto earnings for the month.  If you are new, this is an ongoing monthly series that I write, that chronicles my journey to my eventual goal, reaching financial freedom. I don't write these articles to gloat, but I do it for two reasons.  I write the articles to help track my own progress and to help keep myself motivated.  Secondly, I share them in hopes that it will help convince someone else to begin their own journey towards reaching financial freedom.  While I haven't reached my own person goals yet, I am gradually inching closer and have made great progress since I first began this monthly series.
So let's talk about how the month of July went for me.  I was very satisfied with how the month went, especially considering the fact that during the second half of the month I got Covid and took a break from all writing until I began to feel better.  So this was a month that was missing nearly half of my usual output.  With that said, there is no denying that my numbers were down from previous months. There are several reasons for that.  The first I already mentioned, I took a break from writing for about 10 days while I was recovering from Covid.  The second is that I had no freelance jobs this month.  Something that is directly correlated to how the market had not been performing well, which also made many of the companies in the space much more conservative with their funds.  The TDLR of that is money is tight in the industry right now.  And the third reason why my earnings have dropped some was because of a personal decision that I made.  As many of you know, the crypto lending environment has been a very dangerous place the last few months. People who had their funds on Celsius, Vauld, Voyager and the list goes on, have likely lost a large portion of their funds forever.  And so I decided to cut back on the risks I was taking by lending out bitcoin, ethereum and more.  Instead I have taken some funds off the table, instead putting them in cold storage.  I still am lending out some bitcoin on places that I feel confident about their financial situation, (FTX), and keep some on Nexo as collateral for a loan I have there.  But other than that, I'm no longer lending anywhere else.
And so July has once again mainly consisted of earnings made from blogging about crypto, and also lending/staking. In the future I would like to add a third-wheel to help make even more earnings.  In the past I had mined ethereum, which worked out greatly.  But got out while I could re-sell my mining machines at great prices, especially with the end of ETH mining approaching.  And so my search continues.  In the past I have considered making a podcast, or maybe having a YouTube channel.  We will see what happens.
Without further delay, let's dig into the numbers and see how I did during the month of July.
Publish0x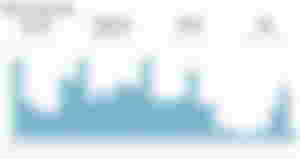 As always, Publish0x continues to be the place that I enjoy writing at the most.  I find the website easy to use, great UI, and also my performance here is always consistent.  Beyond that, there is a real community that has been built here that I don't see on any of the other platforms that I use.  The comments that I receive on my articles sometimes blow my mind how well thought out and articulated they are. On to the performance, publish0x is my most consistent earner.  Depending on how much I write, I can count landing in the $30-50 each month.

I have officially reached 5,900 on the website and am getting closer to my next goal of 6,000.  
Publish0x Total = $30.28
Read.cash
Read.cash was previously one of my most consistent earners alongside publish0x, but this month the performance was lower than usual.  Perhaps this was due to the continued bear market and less people coming to the site. Or maybe the articles I was writing just didn't go over well.  Also it is important to take note that I did miss 10 days of writing and that had a huge effect as well, but the earning per article was down as a whole. Other than I continue to really enjoy the platform.  I loved the fact that you can withdraw anytime you want.
Read.cash Total = $20.00
Hive / LeoFinance
Hive = $22.61      LeoFinance = $6.52
Hive and LeoFinance continue to be my never-ending quest of trying to figure out how to have better performance here.  At first glance the performance may seem okay, but when you consider that half of the performance came from 1 article, and the rest saw little to no performance, that is when its easier to see my struggles on the platform.  Although, a large part of this has to do with the downturn of the market, and the downturn in price of Hive and Leo.  Leo has dropped over 90% from being more than $1 last year, to now being around 5-6 cents.  So it takes much better performance on my articles to even reach the performance of an article from last year that didn't perform well.  But that it how crypto cycles work.  With that said, even when I had one of my worst performing months on Hive, it was still almost my top earner for the month.  Goes to show you the potential that the platform has.
Hive / LeoFinance Total = $29.13
Substack = $0
As always, I continue to keep my substack blog free and expect no earnings from this platform. Instead, my focus is to gradually build my own community over there.
Freelance = $0
As I mentioned above, I had no freelance work this month.  But I hope that will change in the future.
Blogging Total = $79.41
FTX 
As I mentioned before, I have stopped lending on most services and feel lucky that I was able to escape unscathed during the crypto lending market chaos.  With that said, I continue to keep some bitcoin and ethereum on FTX.  While this isn't advice to any of you, personally I feel confident in FTX's financial situation and feel confident having some funds on the service to earn a passive income.  I must add that I am watching the service and industry like a hawk, to ensure the safety of my own funds.  For the time being however, I am happy to continue earning a passive income from my bitcoin.  I do like FTX a lot, and enjoy the fact that bitcoin withdrawals are quick and free.
Bitcoin = 0.01264764 BTC ($303.54)
Ethereum = 0.008636 ETH ($14.68)
FTX Total = $318.22
Kraken
I continue to stake a portion of my ethereum into the ETH 2.0 protocol on Kraken.  While my ETH is currently locked up there until after the ETH merge, I am enjoying receiving ETH staking rewards on a weekly basis.  After the ETH merge, it is likely that the staking interest rate will double or even triple, and I will probably look into staking more of my ETH in the future.  
Ethereum Staking = 0.014026325 ETH
Kraken Total = 0.014026325 ETH = $23.84
Nexo
I continue to keep funds on Nexo, not so much to earn an interest rate on them, but more so as collateral for loans that I have on the service.  With the recent lending market turmoil that has taken place, I am considering paying off my loans quicker and withdrawing my collateral from the service.  I will keep a close eye on Nexo remaining solvent and pay off the loan quickly if I see something that I don't like.  For the time being however, I have no complaints with the service.
USDC = $3.50
Bitcoin = 0.00014321 BTC ($3.43)
Ethereum = 0.0045421 ETH ($7.72)
Nexo Total = $14.65
Crypto Lending & Staking Total = $356.71
A new category this month is miscellaneous.  This will include anything that isn't blogging or lending/staking, and doesn't deserve it's own category.  This month I was able to earn a small amount by taking a Coinbase Earn quiz.
Coinbase Earn = 0.9595 GAL ($3.00)
Miscellaneous Total = $3.00
And that was my performance during the month of July.  While the numbers are down, I'm still satisfied with the end result.  However, I am motivated to grow this number substantially in the near future.  With the combination on the market seeing a recovery, being healthy for the entire month to maximize my output, and hopefully finding a third-wheel to add to my income streams, I hope to see even better performance.
How about you? What did you do during the month of July to earn crypto earnings? What worked well for you, and what didn't work well?
As always, thank you for reading!