Let's write my diary. Day 28. Good News.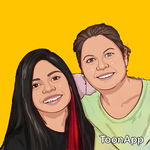 Hi friends. Let's write our 28th diary and today I want to share my good news with you.
Last night my sister called me to make a video call with my mom who was finally awake and was talking, if you can call it that, with her and my niece.
I am very happy for that video call because I saw my mom with her eyes open. I have faith that my almighty father will improve my mom and make her recognize her children again.
And speaking of motivation and faith, for a month I have been listening to motivational videos, I already told you about Neville Goddard, I am receiving a lot of good news that little by little I will tell you about.
For now, I'm just telling you that I didn't even know that I had asked for those things. The metaphysicians say that we ask for things and the universe or God specifies it for us, he gives it to us.
Many times without wanting it we ask for things with our thoughts and the universe fulfills it. That is why it is so important to have a quiet mind or make the requests consciously to know what we asked for.
Believe me that this technique of meditation works and very well. Many times we see them immediately as they are fulfilled.
On the other hand, and speaking of everything a bit, last night it provoked me to eat hamburgers. But in my house we are 7 people, so it is not easy to go to a fast food stall and order them, so we made our version of hamburgers.
They weren't bad at all, very tasty and I was able to get even with a hamburger and we were able to share with everyone in my family. It tastes much better that way.
The other worrying thing is the price of BCH, it is quite low, but that is normal in cryptocurrencies, they go up and down. Also cryptocurrencies have their high and low seasons like travel agencies hahaha.
Well, as long as we keep writing everything will be fine.