Let's write my diary. Day 18 - Today has been a sad day for me.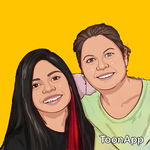 Finally came the day. Today I got up and drank my coffee waiting for the time to pass quickly so I could visit my mom.
I showered and got ready and was ready at 10 in the morning to take the bus. I'll bring him a melon so my sister can make him juices or dice it for him.
When I arrived she was sleepy, she had had a bad night. My sister put the oxygen on her and she took it off. So they spent the whole night. My sister told me that she complained a lot but she doesn't know if it's because something hurts or because she had low saturation.
I couldn't even talk to her or receive her blessing. She fell asleep and although I spoke to her she did not answer me. My sister tells me that yesterday 2 of my aunts (her sisters) went to visit her and she doesn't recognize them.
It makes me very sad to see my mother in that condition as if she is letting whatever has to happen happen. And the worst of all is that we can't do anything.
Since December that Covid gave her and the ACV does not want to help try to recover. I'm not judging her, she will have her reasons. But it is unfortunate that in such a short time my mother has changed even her countenance. The wrinkles that never came out appeared in just 2 months.
I still believe that she is a very strong woman, I have endured 3 strokes, Covid and Omicron, she is my example to follow and she is the woman that I always saw as an oak tree, she does not bow down in the face of difficulties.
This situation of helplessness is what hurts the most, what else can we do? Just trust what God has to do with my mother. May his will be done.