Let's write my diary. Day 16 - I can now visit my mom.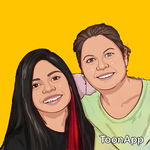 At the end of January we got Omicron, the truth is that it is a very rare flu. Dry cough and a sensation in the throat as if you had hands squeezing it and it does not let you breathe.
When my sister found out, I told her, she told me not to go visit my mom because we shouldn't run the risk of getting Omicron.
My mom is 83 years old and recently got Covid, we don't know how because my sister washes everything, cleans, and doesn't let anyone come to the house so she doesn't get infected. But he hit him and the truth is we were very scared for his health. It can be said that it is a miracle that she came out of that virus alive.
We say it because of the age, but my mom proved to be strong. We already knew that and confirmed it. Although it looked quite bad since together with the Covid it gave him a stroke (cerebrovascular accident) and it is what he has now left as a sequel to the Covid.
When we left Omicron, they got infected and then my sister told me that I had to wait to go visit her. So in that plan I have more than a month because you have to leave a time of 15 days after coughing stops.
I am preparing a publication for you to see what my beautiful mommy has been through and everything that has changed in just a couple of months.
It makes me very sad to see her like this, but I trust God that she will soon recover completely.
Tomorrow I'll buy her a soursop that she likes a lot or some apples if I can't find the soursop, she also really likes mango and banana.
I am very happy because I am going to see her and say hello and hug her. I'll write more about her soon. She is my iron woman.