Let's write my diary. Day 11 - Happy Birthday.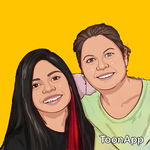 Until just 6 years ago our birthday celebrations were quite a party. And much more when the family is as large as mine.
But of that there are only memories left, that is why I insist on taking photographs of each event that takes place, even if it is small so that it remains as evidence of what happened.
And it is that those days where the house was filled with only relatives to celebrate someone's birthday is now reduced to only those who live in that house.
There are several circumstances that have led to these changes, the first is the migration that has occurred since 2015. Families have been fractured due to the search for a better way of living than the one offered by the government of my country.
In my family, we were 7 siblings, 2 died and 3 have left the country. We are only 2 and I am thinking of migrating too.
The second reason is due to the fact that in my country there is no public transportation that can bring you late from one place to your home. Taxis are finished, both because of migration and because of the problem we had with car parts and with the acquisition of gasoline to fill the tanks.
If you leave your house with the intention of returning home late, you must leave with your own car, that you have been able to fill the tank with the candy so that you can return late at night.
The third problem is the pandemic, we must continue to take care of ourselves so that we cannot meet more than 10 people in the same place for biosecurity reasons.
Tomorrow will be my sister's birthday, but she is not in the country, so we will have to do the congratulations through whatsapp or via video call on the phone.
We have been doing it for a couple of years, when it comes to singing the birthday we make the video call to sing with the birthday girl and congratulate her. The truth is not the same, it is not the same emotion.
But it is a sad reality that now we have had to live and that makes my heart small. To see so many families separated by thousands of kilometers and united by a telephone line.