Let's write my diary. Day 10 - Our daily bread.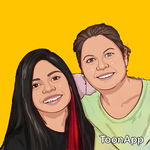 Our typical dish is the arepa, but if they give me sweet bread with sugar on top and a good cup of coffee with milk, I am the happiest woman in the world.
Well, I was lucky enough to have this delicious bread for breakfast with my fabulous coffee with milk. Every day I prepare my coffee with milk and I come to drink it in front of the computer. I love it, and if I could make this day a daily repetition it would be very good.
I have had the opportunity to try other bread in other countries and the truth is that they do not taste the same as ours. And several people in different countries have told me the same thing, they really miss the bread from here.
And it is not just about the shape but about its taste. In Colombia, for example, there are many good breads, but they do not have sugar in their upper layer. There are guava breads, dulce de leche and other varieties. But I couldn't find something like that.
A friend in Peru told me the same thing, and another in the United States. And it is that everyone adapts to their own, although I have tried good ones.
But bread is bread and in the absence of sweet bread with sugar on top, all the others are good with coffee with milk.
Long live bread from anywhere in the world!!