BeReal, a new social network for phones.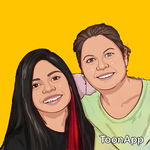 BeReal is a French social network created in 2020 by Alexis Barreyat and is based on spontaneity.
It only works on IOS and Android phones. You must download the application from the App Store and only your phone number, your name and your username are recorded.
Then you will receive a notification where you have 2 minutes to take a photo of what you are seeing. The photo you took with the front camera will appear on the screen and your photo will appear on a small screen on the upper left side, which is how you are seeing what you are photographing. So it will be the two cameras, the rear and the front that will make the capture.
What this application intends is to capture the moment and share it without having to make up the photo, without filters from your camera, without retouching from any program. This is how you have it in front of you, so your friends will see it.
I already downloaded it and I'm going to try it for a while to see what benefit there is in it. If you already tried it, tell us what you think and if you still use it, how did it go with it?
Source of information and source of photographs:
https://www.xataka.com/basics/que-bereal-como-funciona-esta-red-social-basada-espontaneidad