The Federal Reserve hikes could drag everything to lower valuations.
I think that Bitcoin will follow what the stock market does in 2023, and I do think that the stock market will be influenced by what the United States Federal Reserve does about increasing or decreasing interest rates. The government, with the blessing from central banks, printed tons of fiat money during the pandemic and now they are trying to solve the inflation they caused, and now you have central banks increasing rates to the point that the Fed has increased rates to historical levels.
I live in the United States so that is the inflation I know about and the Federal Reserve is the bank that prints my local currency so that is what I will write about, I am pretty sure your local banks will do something similar.
Inflation in the US is 7.1% and the Federal Reserve wants to bring that inflation down to 2%. The current Federal Reserve interest rate, or federal funds rate, is 4.25% to 4.50% as of Dec. 14, 2022. On Dec. 14. But previously it increased rates by 0.75%, and because of that inflation came down from 9.1% to the current level of 7.1%.
Probably in 2023 the Fed will have to increase rates until either inflation goes down or something major breaks in the economy and at that point, the Fed could be forced to slow down otherwise they could risk destroying the whole market.
Bitcoin and cryptocurrencies that are not inflationary have mostly existed while central banks were printing money, and it is the first time we have a scenario where Bitcoin exists and the central banks are actively trying to reduce inflation by increasing rates. Bitcoin was built to help regular users fight inflation but we are in a deflationary environment right now and probably will continue next year at least for the first 6 months.
The overall outlook is bearish for the stock market and so-called on-risk assets like stocks, houses, and cryptocurrencies. Pretty much right now fiat currency is king. Now at some point, central banks will have to stop the rate of increases because something went wrong in the economy or because inflation came down, but at some point, assets will regain their previous values and as such while the bear market last investors will be looking to invest their money and plant the seeds that will flourish in the next bull run.
If interest rates could slow down by mid-2023, the current bear trend could break but it seems that the Federal Reserve needs to at least increase rates by some 1% to 2.5 in total in the following meetings, which means the downtrend line in blue probably will break because the market is pricing more pain.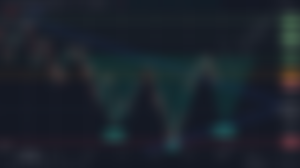 So the next patterns that could support 1% to 2% increases are the inverse head and shoulder and at last resort a triple bottom mark in the red line with circles. Those two patterns are bullish but both will play out in a bear trend that is at least one year old and could indicate that the markets are pricing in a 5% to 6% base interest rate. But we will have to study what the rate of inflation is when the price reaches those points.
What I am saying in short words is that the worst-case scenario could be that we get 6% interest rates, and the Dow Jones could go and make a triple bottom, going below that will mean that inflation is a harder problem than previously believed. So it is my worst case and I don't expect things to go that bad.
Now I do think cryptocurrencies will follow soon after the stock market and as such I could say I expect BTC to go below $10,000, and for Bitcoin Cash to go below the previous all-time low of around $80.