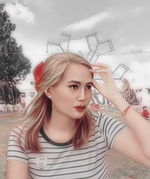 December 10, 2020
Thursday
Today was quite a hot day. The sun shines brightly and it gives us hot weather. It's good to enjoy something cold like icecreams and stuff. Here's my cravings for cold hits me once again. 😅
My partner and I chatted a while ago before I started writing this article. That small conversation turned into an argument. And our topic, I told him I can't write anything. He told me to have a break and leave this platform for good. I didn't mean anything to offend nor hurt his feelings. Honestly, I'm the one who was hurt, badly. I just want him to encourage me, show me some support, that's all I want. But, unfortunately, we ended up fighting.
I wasn't able to write something in my notes since last night. I was blocked with ideas, out of thoughts, and drained. Being a full-time mother isn't easy. Taking care of the family isn't easy, but as I was reading my partner's messages, I realized something, his efforts. I often think of myself, of how tired I am, how busy my day was after the whole day routine. But I never looked at his efforts.
He was tired, but he can manage to smile. He was stressed at work but he can still provide for the family, willing to give his full time and attention. He didn't complain anything, about how exhausted he was, about his muscle pains and what he felt inside. Instead of complaining, he will continue to share some smiles with us, to his children.
I never thought that a tiny argument will turn into wonderful realizations.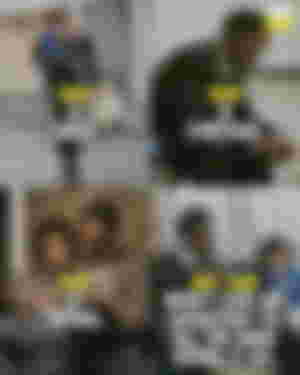 He is tired, he is stressed, he is trying but won't give up. That's my love, my one and only partner in life. I'm so lucky to meet a man like him. He's my serendipity, I wasn't looking for him but definitely, I found him. He's not perfect so do I, but I know all he wants in life is to give us a better future. He won't give up, we, his family is his inspiration.
That very moment when I realized that I was wrong for always expecting from him, helped me to understand him and myself better. He motivated me since day one I started my journey on this platform. All I need and what I forgot is self-motivation. I need to set my priorities straight. I wasn't able to write because I let myself not to write anything. I failed to motivate myself to keep going. I need to rethink the reason why I am here, to help my dearest love financially.
This day feels so long, as the soft warm air touches my skin, listening to some mellow music, I feel refreshed, my sanity seems to cooperate with me.
I was guilty, very guilty of not doing my best, and complaints about my unfinished works. It's my fault, I shouldn't expect someone to finish it but me. I don't need anyone to encourage nor motivate me, but myself. I'm so glad that I'm able to reflect on something today. And I thanked my serendipity for it.
Self-motivation it's so easy to think of it, but why I didn't do it for myself?
What I had these past days were slumps, motivational slumps. But the bare truth is that no one can help me but myself, to move and go on. Now that I know what's lacking in me, I can stay focus and keep my points in the right view.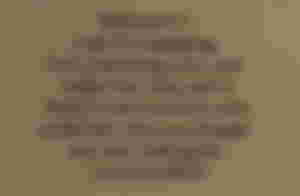 Serendipity is finding something else when you were looking for something different.
What happened to me today was fortunate serendipity. I was looking for something else but what I found was far meaningful than I expected. It was least than what I expect, but look at what I found sweet thoughts that hit my reality.
It's like fate but serendipity is something else. It is discovering something unintended, or unexpected, but fortunate, finding or learning experience that happens by accident.
We may encounter difficulties in life, we just need to keep going and growing. Learn from the mistakes we had, and have no regrets for tomorrow. No one knows what is going to happen tomorrow, or for the next hour, a minute, or even a second. Just like today, I didn't see it coming, however, it hits me hard. But in order to not make a waste of it, I need to work hard, know myself better, and understand the people around me, most especially the one who cares for me.
"Serendipity is just one percent of life, 99 percent of what we have is due to the efforts we give."

Peter McWilliams
@eommaZel 🥀✍🏻
---