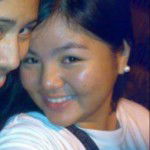 We've known each other for a decade now
You know me well and I known you somehow
We've been through ups and down since college days
We've loved each other in so many ways.
I always ask you when and how you first saw me
You told me that it is all meant to be
You were a freshman and I was in my 4th year
We're to far and can never be near.
But fate is something we can never understand
You and I met with fates stroke of hand
You got my number from a friend
We became classmates and that's not the end.
Everything's clear from the very first night we met
You're funny and thoughtful and I'm not sure what I'll get
I guess your sense of humor really got me
You ask if we can be lovers I said yes we can be.
Two years had past and it was a roller coaster ride
We're on and off and sometimes I just wanna hide
We had to break up and I must admit it was my fault
I fell out of love and our relationship was on halt.
Two years later, you saw me walking alone
And I'm not sure why I message you on my phone
I suddenly message you to get closure
You asked to meet and I said "Sure".
The closure I was expecting was not given
Instead, I think we realized something
Maybe we can give ourselves a second chance
To love again and rekindle our romance.
We are now 6 years after being back together
I'm really hoping to live a happily ever after
I'm ready to spend my future with you
Know that you're the only one and I love you!
-ellimacandrea
Inserting this song because I just feel like it. 😅❤️😍😍😍❤️❤️❤️😘
Sponsors of ellimacandrea