Escapees Escapade 2021, Rock Springs Wyoming
Well after our journey from Oregon we have arrived in Rock Springs Wyoming. The check in process was pretty smooth, we are boondocking in an area adjacent to the indoor arena on a big parking lot.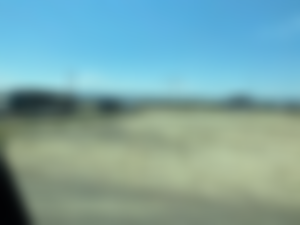 We've already met a couple of people who were actually at the harvest host bowling alley we stayed out the night before, and didn't see them there. We got here a day early on the 17th, and immediately had to head into town to Les Schwabb to attempt to fix the left front tire on the truck. It's had a slow leak for about a week, losing about 20 psi per day. It took them about an hour and a half, but Kathy and I went to Subway and had lunch while waiting. We get back and a nice gal there says she fixed it, a patch, and it's free! That's what I call service. We then had to run to Home Depot to get some plumbing for the sink, long story but they did a bit of a hack job at the factory and it was failing repeatedly, dumping water into our canned goods a couple times, so I had to go get some plumbing to do it right. The job is a success, it's solid now. The plumbing is the exact same as a house so I'm well versed there. We also had a critter in here, evidenced by some food that had been broken into in our dry food drawer. So we picked up a couple small mouse traps, with some pepperoni, and viola by the next morning we had our perpetrator. So an eventful arrival day, but successful.
Here is some pictures of our spot and setup. We opted for boondocking, it ended up in what is basically a parking lot. But we're good, we've got a full tank of water, 82 gallons, and empty gray/black tanks. I set up our chairs and bbq and we're good to go for the next 5 days of the event: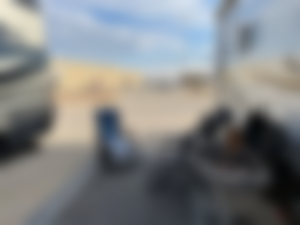 We lucked out as we're right near all of the events. This place is huge and there is huge number of RVs quite far away. But they do have ample golf carts ferrying people to and from events.
Today, the 18th, is actually the official start of the rally. We went in to see some of the exhibits and vendors. Escapees also had an exhibit for their HOPS, chapters etc., and got a few really good tips from a few people there relating to where to camp and other such things. So far we've met quite a few people and everybody is really nice and helpful.
In the opening ceremony, we actually all stood and sang the national anthem. That was a pleasant surprise considering all that it's been going on with the country. I sang pretty loud. The person in front of us didn't seem so proud of the country so I sang louder.
We then went back to the trailer to take the dog out for a little bit. We then went back for the first-timer social, and door prize drawing. Kathy had already won some jewelry just for signing her name at a chapters desk, and she lucked out again. In a room of 400 people she won one of about 10 prizes, a bag of adventure body wipes and a Wyoming flag. Woohoo!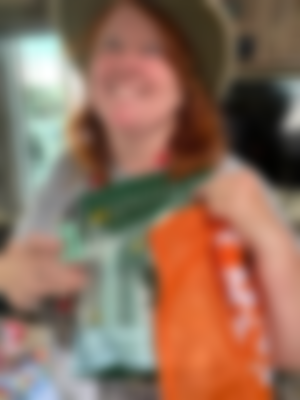 So we headed back for dinner, and came right back for the door prizes at 7pm. After that followed a comedy/magic show, by a gal from Canada who hadn't performed in 507 days due to Covid. We had a bit of trouble hearing due to the audio set up, but it was still fun and she did a great job I thought. Then Kathy and I headed back to the trailer, had a couple drinks, discussed our experience, and hit the hay. First seminar is at 830am.
The highlights for us today were a demonstration of a product called Wi-Fi rangers in the morning. This device will connect to all your sources of data, of which Kathy and I have three, and will allow them to be accessed through the single router. That seems like a pretty cool deal because we're always switching our connections between our phones and our MiFi device from Verizon. So we may in fact be leaving here with one of those, I'm not sure yet.
The next highlight was a 4 PM happy hour put on by RV country. And yes, free drinks, wine, margaritas, beer, seltzer drinks. We chatted with our neighbors for quite a while, and met a really nice lady Kathleen who we chatted with for a while, really nice people here.
All of this was followed by a really great country concert at 7:30 PM by a group that really knows how to play. I really enjoyed listening to them. I wish I'd have remembered to take a picture.
I kind of let the time get away from me a bit, the rest is an update on the remainder of the event.
Suffice to say, we learned a lot. It was a challenge organizing all of the notes from all of the seminars. We walked away with a ton of information.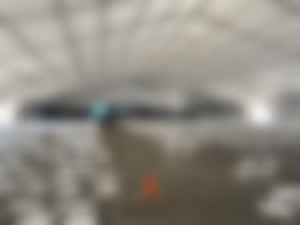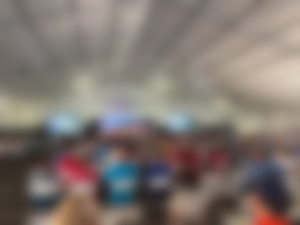 One bit of information that particularly stands out, and one that is going to probably be a game changer for our data, is called the instyconnect. And it wasn't even one of the seminars, nor even a vendor there, just a random conversation.
We were walking down what they call the ROW, where there are displays for all the different Escapee chapters, SKP coop parks, BOF groups and such, and I got into a conversation with a nice gentleman at the San Diego Coop park booth. We somehow got on the subject of data solutions, and he related what he was using, something called a Mofi. He and his wife love it, and she proclaimed so quite profusely when asked by her husband. They can get unlimited data with a standard data plan, due to how they can configure the modem to look like a phone, thus unlimited. I have since educated myself on this unit, and it turns out to be a rather interesting option as they are coming out with a brand new 5G model as of late. But he said what he'd do if he were getting one today, is get something called an Instyconnect. This gadget has an antenna on the roof, with the cellular modem (with SIM installed) right inside the antenna, thus almost zero cable loss. The modem coverts the RF into data, that data cable goes down inside the RV to the inside router, thus zero signal loss from roof to interior. Genius. This is contrasted with the Mofi option, which requires a pretty hefty RF cable to the roof, one which may need a new hole. I may be able to get away with using an existing hole, the solar panel cables, with the instyconnect data cable, which is small. My solution right now is to use a cellular booster, which works ok, but has about 35ft of RF cable, the loss of which negates the whole point of boosting. So I'm rather obsessed with the thought of obtaining this unit and will probably give in and buy one.
The next most significant revelation we walked away with was how many methods there were to keep critters out of your RV home. As we'd had our first home mouse invasion a mere days before, we were rapt with attention on this subject, which came up in the "boondockers panel" seminar. So many methods shared, that are quite simple. From my notes:
Mint Oil

Moth balls

Irish Spring Soap

Rodent deterrent on jacks

Solar lights underneath trailer and truck

Cover any holes
The solar lights option seems to be the most simple and effective, as I've had some conversations with folks here after this class, and our neighbor a couple units down in particular has used this method. Who knew, rodents just will not go where there is light, they are repelled. So we're going to the local harbor freight here in town to pick a couple of these up, and put them underneath the trailer and truck at night. Also the cover the holes option is definitely on our list, as we can see where they can get in underneath our kitchen drawers. The factory had a couple oversize ones where they routed some cable. Going to get some of that foam expandy stuff from the home store and fix that problem.
Also up on the top of our list was information we gathered from a SOWERS seminar. They also had a booth in the ROW and I chatted with the guy about it. I think this is in our future.
So this and many many more points were taken away, too many to write about really, at least for me. I would definitely recommend the escapade at least once, a massive learning experience. So many knowledgable people.
We met some really nice people while here, a couple of which were our neighbors, Ray and Karen, that were very nice and we enjoyed our conversations with them at the happy hours. We exchanged some information, who knows maybe our paths will cross.
The closing ceremony was followed by another happy hour at the RV country motor home exhibit. Kathy and I went and got a couple drinks, me double fisting (hey they're free :b), and strolled around the motor homes that were open. Wow. Some of these are gigantic. They then had a farewell concert at 6pm by a band we saw a couple nights before called the Status Crowes. They were good. So Kathy and I grabbed a table with our drinks around 545pm: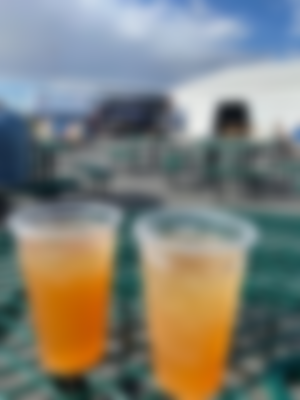 So Kathleen came back over to sit at our table, which was quite a treat as we really enjoyed her company. Then comes along a couple, asking if these seats are occupied. "Nope! Hi I'm David and this is Kathy". I begin to have a fascinating conversation that lasted 3 hours with this ex-law enforcement man, his wife was a cop as well. I wanted to pick his brain about many things, as I've always had respect for my elders, and always love to have conversations with them, but 10x with law enforcement. I have so much respect, and they have a ton of knowledge and insight that it is not every day you get to talk with one and have 100% attention. I took full advantage and asked about all things self-protection, preferred weapons, the state of gun rights violation in California, advice on shooting etc etc etc. It went on and on and I was fascinated. His hame was Ray, he volunteered to exchange information, and said if I'm ever down in the Las Vegas area (which I think we may be in January), to contact him and we can go to the Clark County shooting range fire off a few! That would be an honor and I think I might actually take him up on that, depending on circumstances.
We decided to take advantage of the "stay and play" option, where they will have a rodeo and fair at these fairgrounds in the near future. We're moving to a full hookup site for this. We're very excited. There will be a week of downtime between now and then so we're going to use a couple days to see some local attractions, one may be Dinosaur National Monument in Colorado. Stay tuned.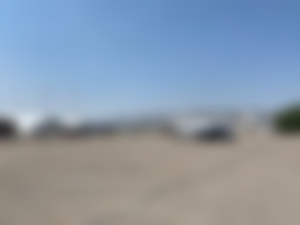 In the meantime we've got most of this particular boondocking area to ourselves. Those that aren't staying for the rodeo and fair, which is most, have left. So we're being a little more lenient with the leash rules, which Mocha doesn't mind at all. There's nobody around.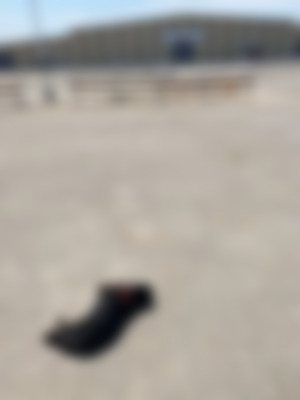 So what a great time. We'll probably do it again.