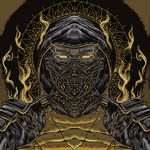 I dont know what is suitable for the title of this article, because in this article it is just an idea that came to mind this afternoon. I don't know what theme I should make in this article. Writers who are still beginners like me usually only write about the circumstances around me and the right mood. For me, writing in a bad mood is very difficult. Incidentally this afternoon I'm in a good mood, but the idea or what I think to write is not there.
As usual, when I'm writing, I've prepared a cup of hot coffee and a few cigarettes to accompany me writing in the attic, don't forget to turn on the Rock 80's song by the American band Metallica so that my spirit is as high as Rock music. The composition that I prepared was perfect enough to make random writing.
Even though I don't come from a rich family, I grew up with pampering, so I can't even cook rice using a rice cooker. A saying that I have heard for a long time and often I hear is "rice has become porridge", I think it is a wise saying which means that past events cannot be repeated, and we must be willing to live them. Just now, the intestines in my stomach screamed struggling to be filled with food because I haven't eaten since this afternoon because I have nothing to eat. I tried to cook rice in the rice cooker and as a result, I gave a lot of water to the rice so that the rice became mushy. I don't know if this deserves to be called rice?
The first thought that crossed my mind when I opened the rice cooker was the saying "Rice Has Become Porridge". But it doesn't matter, after all, I'm already hungry, even though the rice is almost turned into a porridge-like this, I have to eat it with minimal side dishes. Turns out it tasted really bad, so I couldn't finish it. It turns out that the saying is true, rice that has become porridge is a regret. But in this life full of wisdom, by learning from this experience, I hope I don't repeat the same mistake in cooking rice. Or it could be that the rice I cooked next turned hard, but I hope that doesn't happen.
In this life full of wisdom, we always look at things from various perspectives. If I looked at the almost porridge rice from the perspective of its taste, then I would regret it for the rest of my life. So, I have to look at my mistakes from a different perspective, I have to view the incident as a lesson so I don't repeat the same mistakes. For me, this is a valuable lesson, because with this I no longer depend on others when cooking rice.
For me, perspective is everything. Because perception will be influenced by perspective. If we use perspective properly, perspective will be useful. Just like cigarettes, for most people, cigarettes are a source of the disease that must be avoided, whether true or not, I do not believe it. Maybe because I am a smoker that I only believe in the truth of cigarettes. For me, cigarettes are items that give me energy and also calm when I'm feeling anxious.
It turns out that this article has deviated from rice to cigarettes. Looks like I'll have to stop this post right away because I just thought I'd write about cigarettes. So, this article concludes that we can learn anywhere because this world is a place for learning that is full of wisdom. What we need is to look at things from a different perspective, so we will get a lot of new views and insights. thank you
Lead image by: Medium
Sponsors of dark_spirit666