Art in Religion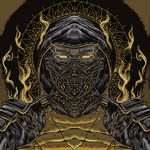 Lately, I've been spending time reading novels by Dan Brown. I was interested in the novel called Angel and Demon, as well as Da Vinci Code. The two novel titles explain the influence of art on Christianity in many European countries. If we visit Europe, we can see the architectural designs of churches, museums, and the great works of Leonardo Da Vinci, Michael Angelo, Shakespeare, etc. Their art still stands there.
It seems that Europe is not the only one that has developed the art world. However, art flourished almost all over the world. An example is the Middle East, starting from the architectural design of buildings, calligraphy, and so on. Art is the result of the beauty of human expression. Usually, art is generally understood in the form of pictures (paintings), sculpture, music, and poetry. However, because the definition of art is the result of beauty expressed by humans, beautiful deeds are also included in art.
From a few years ago until now, I often hear and read news about conflicts that occur in Muslims, especially in my country. From what I know, Islam is a religion that highly values ​​welfare and beauty. I believe that Islam is a religion of art, because of its nature that upholds beauty. Not only Islam, but all religions that uphold beauty are also art. But, why today are Muslims happier with conflict and division, and also very easily pitted against each other? Conflicts and riots are far from beautiful.
In my opinion, this is a matter of the mind and the teachings of Islam itself. Those who deepen/study the teachings of Islam properly will not do bad things like conflict and chaos. So, if someone claims to be a Muslim but likes to conflict and riot, then that person is not learning Islam properly. Because learning Islam properly must clean or purify the mind first. Because a clean or pure mind will not make a mess that leads to conflict. On the other hand, people who are clean and pure will study Islam with beauty.
Many in my country who claim to be Muslim and often shout to defend their religion, do not uphold Islam properly. Because they only use their religion for their benefit and that of their group. I seem to have gone too far in discussing conflict and Islamic teachings. OK, back to the main topic. In essence, art and religion are a unity that creates beauty. Mosques, churches, temples and other places of worship are architectural arts in religion, as are religious bearers such as Muhammad, Jesus, Sidharta Gautama, etc. Are moral artists, they are well behaved and good. And in my opinion, any religion that brings peace and beauty is art.
The lead image source by Unsplash
Sponsors of dark_spirit666