Still life in dutch style (acrylic painting)

Hi friends!
Today I want to tell & show you haw I painted this picture which I named "Russian still life in Dutch style". The article of drawing says about my intention to make a picture stylized as old Dutch painters.
The original of tutorial written for Golos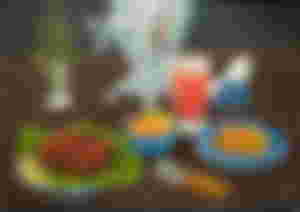 For reference I chose my own photo of country summer lunch.
It's set of materials I painted: acrylic paints, synthetic brushes & medium for acrylic paints (to make their more wet on the paper).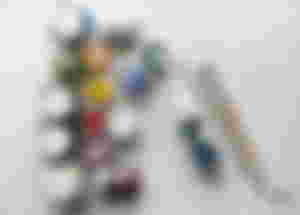 Sketch
As can be seen from the reference, the photo shows a white tablecloth and a light background.
I made them dark, mixing black and brown paint.
Then I added some colors of brown are scarlet and canary yellow colors what a background was be not so smooth.
Yes, in process of drawing I slightly "lowered"a horizon line.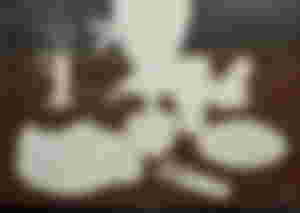 I start my painting with the most difficult subjects - from a bouquet of flowers in a transparent vase and from the main dining dish - fish cutlets with fresh vegetables.
I used two green shades & bright yellow for painting a foliage; gray, ivory & heavily diluted grassy green - for glass.
Cutlets I painted with brown, scarlet and two shades of yellow.
For a cucumbers I chose grassy and light yellow paints, for lemon circles are light yellow and gray.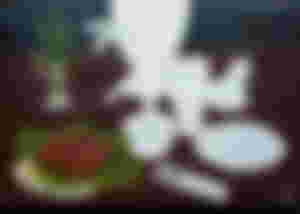 Then I painted a dinner's dishes with mix of cobalt blue & gray.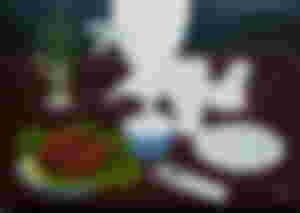 The samovar (a vessel for making Russian tea), unfortunately, is not an old copper one, but a modern one from nickel-plated alloys.
Gray, black and ivory colors were great for it.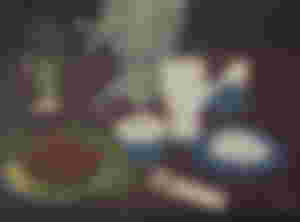 Then I painted a shadows on dishes with mix of cobalt blue & brown - those parts that are closer to a table.
I apply glare in ivory color to have a matte gloss effect on porcelain.
Tomato juice is drawn with a mix of scarlet with two shades of yellow, a glass - with colors of gray, ivory and brown diluted with medium.
With the same colors as the juice and dishes, I draw a reflection in a side of the samovar's surface.
Above it is slightly I glazed with a very diluted gray to dim the brightness.
At the same stage, I put shadows under each object - with mix of brown and cobalt blue.
Finally strokes: in the right plate are slices of fried potatoes with a green onion (scarlet, green, two shades of yellow and brown), wooden handles at tableware (yellow and brown), salad in the central cup (scarlet, two yellow and green), yellow and pink - little flowers.
And burgundy-red cranberry droplets in lemon slices.
I correct the contours of objects, and here is the result!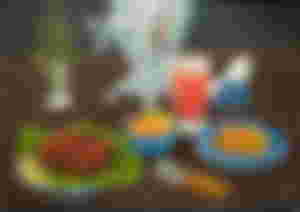 I hope you like my painting tutorials.
Maybe it will inspire someone to take brushes and paints too
Have a nice day!
Regards