Tolerance for violence against men. This is a problem.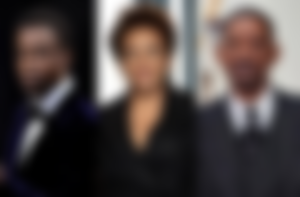 Time to use my sociological imagination. Here is a serious point about the entire Smith-Rock affair. Given how people are defending Smith, according to some people it is okay to hit men in the United States. Look at the picture of the slap. Smith is a much bigger man. But few are commenting on that. What if Wanda Sykes had told the joke and Smith slapped her. Honestly Rock looks no more likely to be able to defend himself than Sykes but if she had been slapped I suspect we would see no defense of the slap. No matter how tasteless Sykes's joke would have been nobody would have been cool with Smith defending his wife. We care greatly about violence against women and a good deal less about violence against men.
And before feminists come after me and say that I do not care about domestic violence I have seen it up close and personal. I have no tolerance for it. I have also put my body in between an abuser and his female victim. But I have also seen a video when they faked a man hitting a woman in public. People intervened. Then they faked a woman hitting a man in public. People laughed. I was ashamed because I know I would have laughed as well. So yes we have much more tolerance for violence against men than against women.
I find it very interesting that the vast majority of people trying to excuse the slap are on the left. The same people who talk about toxic masculinity are alright with that masculinity if a man is slapping another man because his woman was insulted. Something just does not seem right about that. Either we care about toxic masculinity or we don't. If we do then we care about it no matter who is the victim.
Well women are more physically vulnerable so perhaps we should care more about women being attacked than men. But a small guy like Rock is pretty helpless against most men as well. And we really better care about male-on-male violence unless we want to live in a culture of violence. Do we really want to live in a culture where the biggest man gets to slap people around because he feels offended? I don't. That is why I will always take seriously violence done against someone regardless of whether it is a man or a woman.