Expectation Vs Reality
Never did I imagine that the week when people are supposed to enjoy different versions of Binignit would turn out like this. If you don't know what that is, it's a popular stew mainly made up of glutinous rice and tapioca balls that is served during Holy Week.
I was honestly expecting memes about places heavily flooded with Binignit and not these photos or videos of literally flooded areas in my province. As of now, the rain has stopped but strong winds are still felt in the area where I am currently situated.
We experienced a very short power outage yesterday but the electricity came back later at night. Hyped about this convenience to enjoy, I still feel sorry for my fellow Leytehanons who are currently admitted to the hospitals, fighting for their dear lives.
The last time I checked, at least 25 people are reported dead during the whole ordeal. As of this posting, some are still asking for rescuers as some places are still experiencing landslides. I am not trying to blame anyone and I don't claim things would be better if they do what I'm about to say.
But I somehow think that things would have turned out differently if people were urged and forced to evacuate in advance. I know we tend to worry about our properties, belongings, and all other things we would be leaving behind if we move out, but what would those mean if we lose our lives trying to save them?
I've also read something online about illegal logging activities that are still currently happening in the worst affected areas. Illegal logging is still a thing these days, huh? This problem should have been addressed a long time ago. Sad thing is, the ones that should be addressing these issues are the same people who are protecting and initiating them.
I really couldn't talk more about the issue because I honestly don't know much about it but I am not discounting it as one of the probable reasons for such a terrible tragedy.
I am just soooo down with everything that's happening. Not to mention the color war (politics) still being prioritized by the netizens amidst this catastrophe. Seriously? People are still throwing hate, fighting about who's better than who. I even saw a comment that our province deserves this calamity because of supporting someone who the commenter obviously didn't like. I mean, uh, what?
But it is what it is. It already happened and no matter how we wish we could turn back time, we know we just couldn't. I just hope people would learn and be more open-minded. There is a right time for campaigning and now is not it. This happened so many times in the past and we still can't get things right.
On a lighter note, as much as I want to donate huge chunks of money, I, myself am out of funds. So I decided to pack some of my family's old clothes and blankets that were already dropped off at our local donation drive today. I wish I could do more but that was the best I can as of now.
I really want to put further details about the emergency donation drives I know but I am not sure if this platform is open for this kind of thing. But if you want to be of service to the victims, the hashtag #AgatonPh on Fb, IG, and Twitter I guess would easily direct you to the sites where you can help out.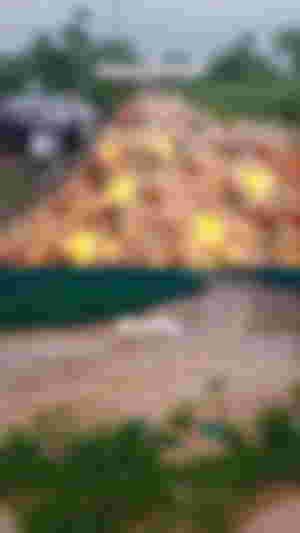 That is all for today, friends. Thank you for reading my article though it seems more like a long rant to me. I'd like to add that I was also expecting more beach photos this month because, hello, it's supposed to be summer szn!! Anyways, I really can't complain about that. I would sound ungrateful if I do. I'm still the luckiest for having my family intact and I hope all is well with you too! Stay safe and alive! Ciao!