Web3 Social Earnings, December 2022
I thought this might happen. For two months straight, I earned more than $300 in cryptosocial income, but $250 of that, both months, was for writing work I did for a client. It's nice to get paid in crypto, especially Hive-backed Dollars (HBD), which can be put into an interest-bearing account at 20 percent APY.
In December, I thought I might get another assignment, but it didn't pan out. Maybe soon.
Meanwhile, here's my Web3 social earnings report for December 2022.
I'll state right at the outset that I don't know how much AFIT I earned because the only way I have to figure that out is to subtract my total AFIT at the end of the previous month from the total AFIT in my wallet of the most recent month. Unfortunately, I sold some it off for Hive and didn't make note of that, so now I am not sure how much I earned for December. It was likely in the same neighborhood as the previous months. In October and November it was 28 cents and 25 cents, respectively. Not much to write home about.
At any rate, this report does not include my AFIT earnings.
My gFam earnings have been falling. Based entirely on XRP tips from other users, I expected as much. Most of my tips are coming from the platform through a grant and gFam has been using that grant money to reward users interacting with its challenges, which I don't have time for. My earnings in December were $10.6454.
Total earnings, rounded down = $10.64
Hive is truly a mainstay. My earnings notch up slowly month to month based on the rise of my Hive Power, which keeps increasing. In December, I earned $3.9010235 in Hive and $4.1321016 in HBD. That's a total of $8.0331251.
Total earnings, rounded down = $8.03
Over the holidays, Publish0x introduced a new token for tipping. I earned a tiny fraction of SPOT because it happened at the end of the month. The rest of my earnings were in ETH and AMPL.
My earnings on Publish0x have been pretty steady. Sometimes, they are higher and sometimes lower. In the midst of the bear market, they are a bit lower. In December, I earned a total of $10.75 between the three tokens. No need to round down. A meager month for Publish0x, but I'll take what I can get today. Of all the platforms from which I earned in December, Publish0x was the leader.
Total earnings = $10.75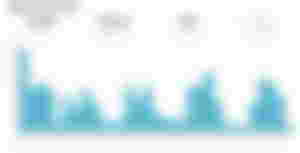 At the beginning of December, another new development happened. Noise.app launched and I migrated all of my content from Noise.Cash to Noise.app. I can no longer post to Noise.Cash.
You may remember that user wallets on Read.Cash and Noise.Cash were shared. However, Noise.app is based on a tipping model where users connect wallets and other users send tips directly to those wallets. While Noise.app supports multiple cryptocurrencies, I've received no tips. In fact, I have heard from other users that their earnings have declined since migration. Mine would have, as well, except that the random rewarder found me again and boosted my tips on Read.Cash. My earnings for December 2022 were $1.3443635.
In January, only six days in, my earnings are already nearly 3 times that much, and that's after losing my sponsors.

Total earnings, rounded down = $1.34
I can't seem to be consistent on Torum. Earnings are not based on content production or content publishing. They're based on showing up and interacting with other users' posts. I don't do that everyday. Hence, I lose out on some rewards due to that inconsistency, especially since some rewards are weekly. If I miss logging into my account just one day, then I lose my weekly reward. Needless to say, my earnings in December were way down as I went several days, more than usual, without logging in.
My Torum earnings in December 2022 were $0.378
Total earnings, rounded down = $0.37
Coil doesn't earn me much, but I don't have to do anything to scrape the pennies together. It's simply a traffic monetization protocol and the code has already been inserted on my properties. The problem is my earnings are dropped into an Uphold account every couple of days. Now, Uphold is holding my BAT and USD (earned from Coil) hostage until I KYC. I had planned to withdraw my earnings from both currencies (just under $30 in value total) at the end of the year, but I didn't get around to jumping through Uphold's hoops in time, so I just didn't go through the KYC steps—yet.
I'm contemplating just letting it go, except that there are only two ways I can collect Coil payments. It's either through Uphold or Gatehub.
With Uphold, I can receive Coil payments in USD or crypto, with several options. With Gatehub, there's only one option: XRP. That's doesn't bother me considering that I've racked up a good bit of XRP from playing around on gFam. What does seem inhibiting is the cost of moving money out of Gatehub (it's considerably more than with Uphold).
All of this seems like to much to think about for such a small amount of money. On the other hand, when the next bull cycle hits, earnings have the potential to make it worth my while, especially if I hold XRP.
My December earnings using Coil were $.011.
Total earnings = $0.11
Presearch has been fun to play around on, but I'm a ways from collecting my earnings yet. Something I can't do until I have at least 1,000 PRE. Currently, I have 694.68.
My December 2022 earnings equate to $0.879333, somewhat lower than previous months. Thank you bear market.
Total earnings, rounded down = $0.87
Near the end of the month I added Diamond App to my posting routine. I have not earned enough through the app, on the Deso blockchain, to report yet. Expect to see my earnings report for Diamond App next month.
My December 2022 cryptosocial earnings were $32.140222. Rounded down, that comes to $32.14.
Total earnings, rounded down = $32.14
What is your crypto goal for 2023? Join the discussion.
Snark and commentary are in italics. Inclusion of an item doesn't mean I agree or endorse the ideas presented. Of course, it also doesn't mean I don't.
Cryptocracy is a decentralized newsletter published several times a week. I curate the latest news and crypto analysis from some of the brightest minds in crypto, and sometimes offer a little insightful and snarky commentary. Always fresh, always interesting, and always crypto. Original articles on Fridays.
First published at Cryptocracy. Not to be construed as financial advice. Do your own research.
Connect with me at: