Earn SAND from Liquidity Pools on Polygon
Sandbox takes big step in their migration to the Polygon network by announcing a rewards program for SAND holders who stake in their liquidity pool. Supporters who are willing to put their SAND and MATIC tokens into a liquidity pool and then stake with Sandbox share a SAND reward pool. The program includes bonus incentives for the first four weeks to encourage early adopters.
After already establishing a continuing rewards system for holders staking on the Ethereum network, Sandbox begins their push to a second layer blockchain, Polygon (formerly known as the Matic network). A while back they announced their intention to migrate fully to Polygon network. Encouraging supporters to stake their SAND on Polygon is an important step towards that goal.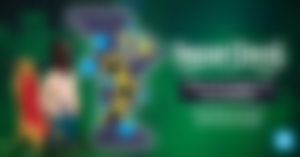 To try and avoid confusion with the SAND tokens on the Ethereum network, the Sandbox team refers to their token on Polygon as mSAND. Holders who join the staking pool receive monthly payouts of mSAND. 300,000 mSAND goes into the rewards pool on a weekly basis, with the first four weeks receiving an additional 200,000 mSAND!
Rewards calculations begin on December 17th, at 5pm UTC. And though the team only mentions mSAND tokens as rewards, they have provided a number of special NFTS to reward stakers on the ETH network. So do not be surprised to see additional NFT rewards in the future for Polygon stakers!
In order to join a liquidity pool you need to contribute an equal value of two tokens. In this case, mSAND and MATIC. If you have either token on Ethereum, you can bridge them over to Polygon for a fee. Follow the instructions below to get setup.
1) Go to your profile at The Sandbox: https://www.sandbox.game/en/me/defi/
2) Click the Approve button on mSAND/MATIC*
*Note that if your wallet is not currently on Polygon Mainnet, you will be required to switch to that network. If you don't have Polygon Mainnet setup, you will be prompted to sign a message to add it as a network.
3) Now you can click on the program and click Deposit. A side panel will open to let you enter the amount you wish to deposit.
4) If you do not have any LP tokens, you can click the Quickswap link to get redirected to the pool interface on Quickswap. From there you can swap for mSAND or MATIC and add them to the pool in the desired quantity.
5) After locking in the amount of LP you want to stake, you will get a prompt to sign the transaction.

10%ReferralFEE
Use My unique referral link and share it far and wide. When a new user buys something in The Sandbox, i will earn up to 10% of the sale! Referrals are processed every day.
https://www.sandbox.game/login/?r=vO-pmBc4a3ZfLWdLU7fsB
Sandbox staking interface
For anyone buying tokens on their own, make sure you get the right tokens. Here are the official contract addresses for both SAND tokens and the liquidity pool on Polygon.
SAND on Ethereum : 0x3845badAde8e6dFF049820680d1F14bD3903a5d0
SAND on Polygon : 0xBbba073C31bF03b8ACf7c28EF0738DeCF3695683
mSAND-MATIC contract on Polygon : 0x4ab071c42c28c4858c4bac171f06b13586b20f30
The Sandbox is a blockchain-powered metaverse currently in development. Sandbox consists of thousands of voxel-based lands. It has some similarities to Minecraft in appearance. However, players are able modify their plots with design tools, decorated them with voxel NFTs, and add programmed experiences! These virtual lands can become mini-games, adventures, virtual shops, a space for social gatherings, and so on.
The Sandbox provides free tools for developers, gamers and content creators. Creators use VoxEdit to make objects. In addition, the Game Maker allows users to build interactive experiences on their lands. Currently in an alpha testing phase through December 20th, Sandbox already boasts a number of quality games and adventures.
Sandbox has built incredible hype and visibility around their metaverse project, attracting notables such as Atari, The Walking Dead, and Snoop Dogg! Lands that once cost $50 are now worth several thousand!