It certainly is a wonderful morning: clear blue skies and trails of passing planes which are now dissolving. It could not be better after the month of rain we have had and cold temperatures. It is even getting warmer and according to the weather forecast it will stay that way for the next week at least. I can really now get prepared for the summer. I noticed my supply of short trousers has dwindled, but I have four in perfectly good condition. I just have to renew the elastic in the waist. For homewear I do not have to resemble Cindy Crawford, no-one really sees me except for the neighbours and their home dress is no no competition.
So what am I going to do today in this wonderful weather? Not very much, but I will escape in the afternoon for an hour to the nearby supermarket for a few bits and pieces. Most of my week-end food supply will be delivered this morning. Although Mr. Swiss has now stopped hugging the bed and tells me he will go shopping quickly in the local store so he will bring me what I need and there will be no need to go anywhere. I think I am getting lazy in my golden oldie days.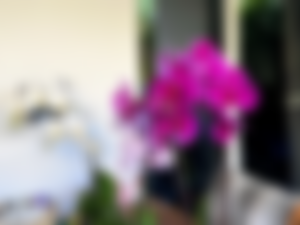 My orchids can at last enjoy the warmer weather outside. I got them about a month ago and they are still looking good. Even more buds have opened in the meanwhile.