The movie "Deliverance" was released in 1972. Some movie critics say the movie "Midnight Cowboy" (1969) put Jon Voight on the map. I'm not a professional movie critic., but I say it was "Deliverance" (1972) that delivered him into the spotlight.
The movie is based on a 1970 novel by the same name written by James Dickey.
This film is categorized as Drama, Adventure, and Thriller. Yeah. It's all three!!
The four main characters are:
Jon Voight (as Ed, a graphic designer),

Burt Reynolds (as Lewis, a landlord),

Ned Beatty (as Bobby, an insurance salesman) and

Ronny Cox (as Drew works for a soft drinks company).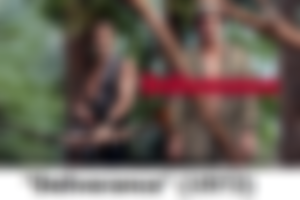 How to summarize the movie plot? Uuuh … It's a mid-life crisis man thing!
OK! OK! Here's a better summary:
"In the film, four middle-class suburban men paddle down the Cahulawassee River to explore the Georgia Mountains' wilderness before it is flooded by the construction of a dam. Their adventure turns into a nightmare when ..."
QUOTE SOURCE: Revisiting Deliverance: The Sunbelt South, the 1970s Masculinity Crisis, and the Emergence of the Redneck Nightmare Genre (June 19, 2017)
Four (4) buddies get together to go on a trip in the woods. The ideal getaway?? They're getting away from the hustle and bustle of the city rat race and they're going to brave the rugged wilderness. Four (4) middle-aged city slickers who don't have a clue about survival! Well! One of them in the group has a clue. Good thing they took Lewis along. Because those two bad guys, i.e. real mountain men, that they met up with thought those girly city boys were just perfect for "hunting sport" and "playing with".Whew! Talk about your survival instincts kicking in!
This movie is for mature adults.
This movie is memorable.
However, if you watch it and want to forget it, there is one scene that you will always remember. The Dueling Banjo
Entertainment Trivia: Warner Brothers was sued for using this music without permission. South Carolina musician Arthur 'Guitar Boogie' Smith sued and won; he was awarded a share of the profits, and the credits of the film were amended to include him.
In Memory Of:
Ned Beatty · Ned Thomas Beatty (July 6, 1937 – June 13, 2021)

Burt Reynolds - Burton Leon Reynolds Jr. (February 11, 1936 – September 6, 2018)
REFERENCES:
(1) Wikipedia contributors. (2021, June 27). Deliverance. In Wikipedia, The Free Encyclopedia. Retrieved 23:40, July 10, 2021, from https://en.wikipedia.org/w/index.php?title=Deliverance&oldid=1030654490
AFI's 100 Years…100 Thrills, #15 on the list of the top 100 most exciting movies in American cinema.
(2) Wikipedia contributors. (2021, June 14). Deliverance (novel). In Wikipedia, The Free Encyclopedia. Retrieved 23:47, July 10, 2021, from https://en.wikipedia.org/w/index.php?title=Deliverance_(novel)&oldid=1028485238
Modern Library selected Deliverance as #42 on their list of the 100 best 20th-Century novels.
(3) Lyttelton, Oliver. "5 Things You Might Not Know About 'Deliverance,' Released 40 Years Ago Today." IndieWire, Penske Business Media, LLC. , 30 July 2012, www.indiewire.com/2012/07/5-things-you-might-not-know-about-deliverance-released-40-years-ago-today-251460/.

Related or Similar Links on Read.Cash:
My Favorite Top 10 Survival Movies
5 Action Movies Recommendations

Check out my movie recommendations on Noise.Cash. Sponsors of cmoneyspinner