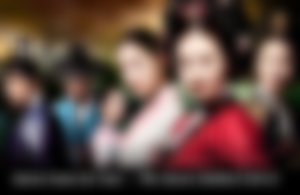 You know how when you're watching a TV series and there is a really bad character or characters and they are so wicked that you watch each minute of each episode HOPING that they finally get what's coming to them?
"Queen Insoo" is a Joseon Dynasty historical period drama. During the various episodes, the narrator explains who the people are and where they fit on the historical timeline of Korea. This series has major character development. It starts when the main characters are young and then takes you through their life at various stages. The narration is kind of a "spoiler" but if you know the history anyway, you already know how it's going to end. In other words, if it were historical fiction and you were the writer, you would make sure the bad folks got what was coming to them. But in real life, bad folks don't always get their comeuppance.
All I can think is that if this was an accurate historical depiction of these real people, then the only person I felt truly sorry for was Prince Dowon (played by Baek Sung-Hyun), who was the young husband of the woman who would become Queen Insoo. That poor guy was a meek, humble, warm and kind-hearted person. But he was stuck between people drive by ruthless ambition: his father, his mother, and his wife. There is no wonder he was ill and would have blackouts. It was too much for his heart to take.
"Queen Insoo has 60 episodes and honestly? By the time I finished this series, I felt like going to a psychiatrist and laying down on the couch. Woo! The vicious power struggles were a lot to digest.
Queen Insoo - Where to Watch and Stream Online
Royal Ladies of Joseon Dynasty – the talking cupboard
About Queen Insu: (1437 - 1504) | Biography, Facts, Information ...
***
Thanks for reading.