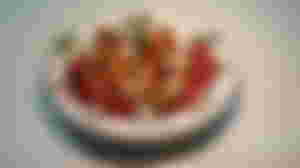 'Gemista' is the Greek word for 'stuffed'. So 'Piperies Gemista' means 'stuffed paprika'. Here in Greece we stuff nearly every vegetable we can find. From tomatoes, aubergines, paprika's, mushrooms and so on. Just name it.
The dish I present here is very easy to create. Its main ingredients are paprika's, rice, parsley, fennel, mint and onions.
Gemista is a indispensable summer dish that can be served 'warm' from the oven or 'cold' from the refrigerator. I prefer the 'cold' version as it gives, straight away, a refreshing feeling.
When I prepare 'Piperies Gemista' I always create a lot of portions to keep them for the next day(s). 'Piperies Gemista' take their full flavor after (at least) 1 day in the refrigerator. I guess it is the rice that absorbs all the juices from the herbs. So the longer you store it (in a cool place), the better.
'Piperies Gemista' should always be served with a light Feta (I prefer the Epirus one as it has a very fresh taste) and oregano.
I LOVE it, in the afternoon, accompanied with a few glasses of Tsipouro. After that, we take a small nap to digest ;-)
Ingredients:
- 10 big paprika's.
- 200 gr. of rice.
- 1 big onion.
- 250 ml. olive oil.
- 200 ml. water.
- 400 ml. tomato juice. (fresh blended).
- 1/2 bunch of parsley.
- 1/2 bunch of fresh mint.
- 1/2 bunch of fennel.
- some roasted bread. (or rusks).
- (black) pepper.
- salt.
- Feta. (I prefer the Epirus one as it just has the best, freshest, taste there exist).
- Oregano.
Preparation:
- (1) Cut the paprika's (in such a way that you take off some kind of lid) .
- (2) Scoop the seeds from the paprika's.
- (3) Cut the onion into small pieces.
- (4) Heat up about 150 ml. of olive oil in a frying pan.
- (5) Fruit the onions in the oil.
- (6) Chop the parsley, mint and fennel.
- (7) Add the parsley, mint and fennel in the pan.
- (8) Add the rice in the pan.
- (9) Mix all this very well (for about 5 - 7 minutes).
- (10) Add the tomato juice in the pan.
- (11) Add about 100 ml. of water in the pan.
- (12) Bring on taste with (black) pepper and salt.
- (13) Boil this mixture. (so that the rice is half-cooked).
- (14) Fill the paprika's, with this mixture, for about 2/3.
- (15) Pre-heat the oven to about 180 degrees Celsius.

- (16) Oil an oven tray and put the 'stuffed' paprika's on it.
- (17) Sprinkle the paprika's with the rest of the water.
- (18) Put the lids back on the paprika's.
- (19) Smear, with a brush, some olive oil on the paprika's.
- (20) Sprinkle the bread (or rusks) on top of the paprika's.
- (21) Bake the paprika's until they get soft (about 45 minutes).

Finally:
- Serve the 'Piperies Gemista' with Feta (cubes) and oregano.
- For decoration and taste, add some fresh fennel twigs.
Enjoy!