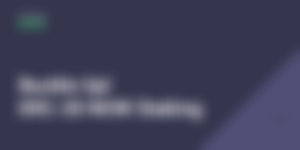 We are glad to inform our users that staking ERC20 NOW Tokens is now available on the platform! The ChangeNOW team has been working hard to offer our users this opportunity. From this moment on, staking for NOW Token is possible not only on the Binance Chain (BEP-2) but also on the Ethereum network.
This is awesome news as Ethereum is one of the most ubiquitous blockchain networks boasting a broad community of avid crypto users from all over the world. Most of them are already in the habit of staking on Ethereum, and now they can use our new ROI calculator and get 25% annual return in NOW Tokens! The offer is valid both for ERC-20 and BEP-2 NOW.
The conditions are pretty straightforward: it's easy to register and get comprehensive support whenever one would need it. The service is easy to use and completely secure: rewards are allocated into a decentralized pool. ERC-20 NOW may be redeemed any time after a one week lock-up; upon this period, users gain full control over their assets.
Our customers can make deposits of NOW tokens into smart contracts and receive guaranteed return. For further convenience and empowerment of users, all NOW tokens may be fully or partially withdrawn from the contract.
ChangeNOW is reported to be one of the main staking service providers on the market offering profitable rates and an extremely user-friendly interface. It doesn't really matter whether you are a beginner or a crypto professional — we treat every client with equal respect.
Join us NOW!