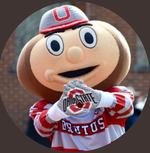 I always say that you can't call yourself a real hillbilly if you can't cook biscuits and gravy😂.  Today I'm going to go over how I fix my favorite "down home" breakfast that I actually almost always make for dinner instead of breakfast.
So I like to start out making the biscuits. Again I don't measure anything all my cooking is done from eyeballing and feel. I take self rising flour and put it in a big bowl. I take some lard (you can use Crisco or vegetable oil) and cut it (mix up well) into the flour.  Next I'll take buttermilk or whatever milk I have and mix it all real good. I'll let that sit for about 15 minutes and then I'll spread some flour out on a plate. I'll take my biscuit mix and make good size balls out of them and roll them in flour. After that I'll place them in my preheated well greased cast iron skillet. They go into the oven at 450 for about 20 minutes or when they are golden brown. Last I'll butter the tops with real butter.
The next part is really simple and easy. I'll peel and slice some potatoes toss them in olive oil. I cook them in my basket air fryer at 400 for about 22 minutes shaking them up real well halfway through.
While the biscuits and taters are cooking I'll get started on the gravy. I take a roll of sausage and fry it in a large frying pan. I chop the sausage up as its frying. When the sausage is good and done I may add a little lard or vegetable oil to it (only if I think there's not enough grease from cooking the sausage). Next I'll add flour and mix it up till it's a nice thick paste. Finally I'll add milk and stir like crazy. If your gravy turns out to thick just add more milk. If it turns out to thin just keep cooking till it thickens.
Usually by the time I'm finished with the gravy the biscuits and taters are finished as well. All I have to do now is fry up some eggs and it's time to eat.