Count Bancula is my 4th CryptomonKeys NFT mined on Alien Worlds
<- Previous post 'April 2022 earnings report from Read and Noise'
_ Episode 35 _
May 2022
Hello,
about three weeks I posted about How I mined Neomonkey on Planet Neri while searching for Trilium and since than I've been mining Trilium on different locations where these NFTs are hiding.
There are actually total of 8 lands on planet Neri where you can mine CryptomonKeys NFT. Exact coordinates are: 23-18, 7-7, 18-7, 5-10, 16-2, 10-13, 2-10 and 35-5. Some of these lands have very low Trilium like location 7-7 have only 0.6 mining value.
Best lands to mine are 18-7 with 2.2 mining value and 23-18 with 2.3 mining value. In this way I get both NFT and TLM.
In three weeks I managed to get total of 4 CryptomonKeys NFT. NeomonKey was the first one, then frosKey, The White Wizard and latest addition is Count Bancula.
Last 3 NFTs are common, meaning their value on the market is below $0.50 and NeomonKey value is higher, above $2.
Interesting fact about Count Bancula NFT. Even though its current price on AtomicHub is only $0.20 few months ago its worth was above $7. So prices fluctuate according to demand on the market a lot and how knows, maybe it'll jump again.
It's fairly easy to start playing Alien Worlds. You only need WAX wallet, I use wax cloud wallet and you don't have to buy anything to begin mining TLM and NFTs.
I'm still beginner in this game, besides CryptomonKeys I won I have Capacitors as mining tools with low mining power and I have about 22 wax staked from the game. You need to stake wax in order to have CPU, NET and RAM which are wax blockchain features. But when persist progress is inevitable, take a look at this video where Zueljin Gaming explains how he earns $20 per day playing Alien Worlds!
These NFTs are really cute. Count Bancula is crated by SoggyApplePie, banano core team member. NFT description field says 'Good night out there, whatever you are.'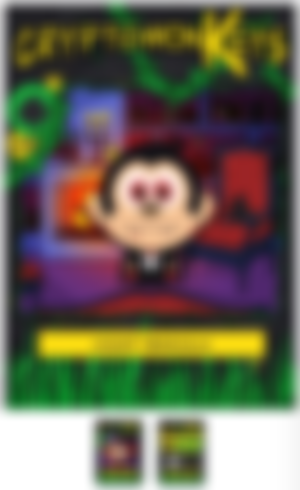 I'll continue to mine TLM and my next goal, off course is to upgrade the tools. I would like to have next 3 Standard Drills, that will double my mining power. However single Drill currently costs around $8 and that's out of reach for me right now, but I'll get there soon.
Thanks for reading and don't forget to subscribe and follow me on my crypto journey and play2earn games.
If you are playing Alien Worlds as well feel free to post in comments below your profile link or link to any of your articles about Alien Worlds so I can read it.
Thanks again!
Find me on: Twitter | Noise | Linktree | Twetch
Play2earn games: Splinterlands | Raising Star | RollerCoin
Crypto faucets: SimpleBits | AdBTC | Coinpayu | CryptoWin

Recent posts:
o Opening my second Season rewards loot chests in Splinterlands
o Kev and Ivan joined my deck of cards in Raising Star play2earn crypto game
o New Exploring smartBCH post series
o Pegaxy players are furious and dropping the game
o Sueldito game turns to classic Ponzi scam
Disclaimer: I'm not a financial advisor, I post only my own experience, so always do your own research on the subject before investing anything. Post may include affiliate links. Thanks for using them.