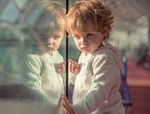 A phenomenon that no one disputes about its existence among us and it lives its life as it pleases.. It bothers you and burdens your time, and you wish to get rid of it in any way so that others can rest from it. There are boring people who gossip about all the details of their lives, spinning and revolving around one point that belongs to them only and they impose it on you to live with them.
The short story they have, they tell us in more detail than boring.. and you have no choice but to smile and shake your head in admiration, approval or astonishment.. you wish to finish this conversation that every time you try to stay away from it they repeat it against you against your nose. This type of human being assumes that others enjoy the details of their lives as they do..and that mentioning every incoming and outgoing has no place for expression in the revolving conversation..it is a duty to clarify without this person putting himself in the place of others to feel as they feel in such situations. It is nice to show others some of the evidence in our lives, such as strengthening a certain point of view about an accident that happened between me and my relatives and loved ones.
But this should not be hesitation and entering into unnecessary details. It is nice to know others about our actions, attitudes, and behaviors in martyrdom and in support of a specific opinion, but this is in the narrowest limits and when necessary, without entering into minute matters.. Others are indispensable and do not care to enter into them. The important thing here is how to deal with this type of people.. Do you direct them directly and warn them harshly? No, of course.. but by deviating from the topic in a smart and tactful manner to give the opportunity to reach what is required to be discussed.. Sharpness in discussion and exceeding politeness is never desirable.. but the means of honey are many.. a smile and a beautiful departure from the topic..
And a reminder that there is a point we have not reached yet. There is a saying..that he who exaggerates talking about himself is the most liar..Therefore, we should reduce our talk about ourselves as much as possible and let our conversation be general and avoid revolving around ourselves as much as possible..I worked and I ate and I said and I bought and I gave..so that he feels that We tell him that there are others in our lives and that there are general issues that come under our attention. I love the word "we" when you put me in the place of me..not in everything..but as much as we are able to..because we are much stronger than me