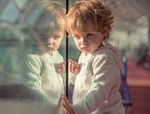 A Western or rather an American idea that arose in the light of the family disintegration that the West suffers from, the preoccupation of family members with each case, the distance in places of residence, the lack of visits and solidarity in social events and in public life, and the devotion to pleasures without regard to feelings with the rest of the family members.
So they made one day a year to remember the mother, visit her, and present her with a symbolic gift on this occasion, which is commensurate with the nature of their society and the nature of the prevailing relationship between members of the same family.
We, the Arabs and Muslims who do not have an independent personality, and the phenomenon of usurped will spread even in our belief and thought, and we have abandoned our constants, customs and traditions in a frantic race to imitate the West in all the customary developments that arise with them, with the exception of scientific and technical progress, we rushed to make the twenty-first of March a day to celebrate it and give gifts For mothers and holding celebrations without referring to our original approach and our glorious faith.
In our origin, the mother is the family's oasis, the warm embrace of the family, a beacon of knowledge and affection, and a reference for the dear and precious.
And it is with this brief description that its right is not fulfilled by a crown, a bag, a preamble, a leafy and fragrant fragrant smell that spreads everywhere and takes the place of appreciation, reverence, obedience, care, thanks and gratitude.
It is not reasonable or acceptable to celebrate it on one day of the year and then forget it, but the care, attention and communication should be continuous and uninterrupted.
May God protect mothers and guide sons and daughters to take care of fathers and mothers at all times.