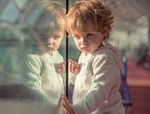 As a harp player on a stage full of the audience, her soft palms move as she seriously talks about the benefits of watching the "Tom and Jerry" series, when a person can get angry, bored or forget!
The green veins of her hands are now protruding from above her translucent complexion, indicative of the passing of the years on that beautiful woman, glowing with femininity and pampering. The sharply double lines of her eyes, united with her pure desire not to fight time, no matter how long it takes, with needles and stretching operations.
A woman with all her mind, culture, experience and beauty, leaning her arm on the sofa, resting her memories on the surface of her throat and between her small eyes. This lady does not want to feel the passing of the years in her wet voice and speech, and all that is just superficial frills that do not advance or delay.
Today she laughs differently, and laughs out loud even if the situation is not necessary. The important thing is that she express her positive feelings a lot, and reveal her very pleasant feelings, to draw from the days of sadness, anger and deep anxiety, which if the days returned, she says, she would have done the same, without hesitation, then laugh out loud.
She became indifferent to the number of cups of coffee she sipped one by one, as long as her head returned to hibernation as soon as she closed her eyelids. And she began to look before people with the philosophy of food, sleep, medicine and supplements, which today is a lie of major companies that have deprived her and millions of people of the joy of life, for the sake of a bigger lie called the preservation of health. She strongly cites the experiences of her owners and relatives who she lost while they were in their full health, emotional and family fitness, and assures those who were moved by her talk that age is "on the hook" if you want the truth!
A woman in menopause, as she is supposed to be within the standards of her old friends, sisters, and co-workers. Rather, she sees that despair had permeated her life and possessed her time dozens of years ago, when she accepted from the beginning to be a stone that comes from one mold to another, against her will, her freedom, and her decision. And today he finally came to break the last mold and move forward with hope towards her mornings that start with laughter that she snatches from social media videos, and her evenings that are extinguished by a smile of satisfaction and thanks to God that her day has passed well and happily.
A dreamy music of an old foreign song passes in the air, so she is silent a little about her intervention in the management of life, closes her eyes and hums to the melody, then surprises everyone with an objection sentence: "You wish I had sung it dozens of years ago from my balcony at home, or in the car loudly, or even In front of my husband and children in the hall, when she was passing by chance."
She doesn't want to add to her life winds or storms, just a soft winter and a breath of air. That's how she ended her conversation, took up her soft scarlet shawl, and walked away