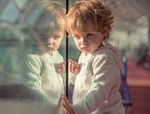 It is true that what we, the generation of the seventies and eighties, lived through, beautiful, disturbing and sharp-angled details, intertwined, violent and difficult sometimes and even often, it is impossible to calibrate the generations that came after us, who believe that school notebooks, sweet jars, thyme sandwiches, songs of Muhammad Munir, caricatures of Naji al-Ali, and a bell. The high school and the door sellers, are nothing but difficulties and a waste of time and a comedy that may be charming, but it is not funny in any way.
Dubbed cartoon series and TV education programs "the tired of it", the colorful notebooks that embraced identical words and phrases about lasting friendship, hearts divided by cupid's arrows, and Eid clothes falling asleep on the sides of our adjacent mattresses, for us dreamy blue memories associated with the voice of Fayrouz singing "A pet enemy after you is cute." ".
But when it is associated with the distances and the far limits of longing, and the scenes of bloody wars, pictures of martyrs and black flags on the walls of homes and institutions, electricity cuts for hours, and the sound of water in the taps at dawn, to fill bottles and bathtubs, waiting for university buses in the rain, and the rattling of the rest of the dinar In the pockets of those who yearn for a cup of hot tea, the generation of easy life "in our view" cannot be satisfied with its beauty and innocence.
We too, when we sit silently captivated, with our consent or against our will, in front of the tales of our fathers and mothers, grandfathers and grandmothers of this time, we are amazed by the extent of their longing and longing for the good old days.
We ask ourselves in amazement: What beauty are they talking about?! Their lives were harsh, dry, complicated and unstable, calamities and emigration after another, alienation in time and place, being away for decades before a meeting that might have seemed a distant dream, and confused relations for us that bind members of the same family to each other, and between people and their circumstances. Although they call it great expressions such as days of blessing, taste of love and good times. At the same time, you become schizophrenic at the reception, when they begin to narrate their internal wars and tales of anger, revenge, anxiety and diaspora.
They lament the tens of kilometers they walk daily for almost drinking water, and the same amount for the weekly shower. They sing the clip of the song "Jifna Alam Al Ghazal", during which they recall their memories of the severe punishment they received that the boys' families did not even see, but they imagined it was super pampered!
I know that every generation has its own aesthetics and even its difficulties, which become beautiful when you enter the book of memories, but to limit the beautiful time to a specific age, without acknowledging that what our sons and daughters are experiencing today in terms of speed in receiving, receiving and returning the message, is a beautiful and good thing in itself, if the long time The rest is invested in what is most important for creativity, thinking and production.
Tomorrow our children will talk about their beautiful time also to our grandchildren, and they will be tempted by the time they were waiting for the "delivery" that took half an hour to complete, and they will have mercy on the days when planes served hot meals because of the long distance between Amman and Chicago, and they will force their children to see pictures of their phones Which was called smart and how they were waiting a whole night waiting for a new episode of the series on a site that was called "Netflix"!
Let us not monopolize the beautiful or the cruel times, and at all respect the women and men of every past or future generation, for we are not them, before or after. All we can do is stick to the fine details as much as possible, and embrace the time to come.