Today is World Roma Day. European Roma are the descendants of a small group that left their homeland in northern India 1500 years ago. As early as the 18th century, linguists discovered similarities between Romani and Indian Sanskrit, which prompted them to draw conclusions about the origin of that people. The Roma are an ethnic people who have migrated across Europe over the last thousand years. Roma culture has a rich oral tradition, with an emphasis on the family. Often portrayed as strange and egotistical, Roma have faced discrimination and persecution for centuries. Today, the Roma are one of the largest national minorities in Europe - according to UNICEF, it is estimated that 12 to 15 million Roma currently live in Europe, and 70 percent of them live in Eastern Europe. In addition to Roma living in Europe, according to unofficial data, about a million Roma live in the United States.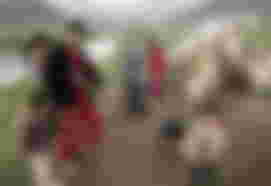 As a way of survival, the Roma were forced to be constantly on the road. They developed a reputation for a nomadic lifestyle and a highly isolated culture. Due to its outsider status and migratory nature, few attended school and literacy was not widespread. Much of what is known about this culture comes through stories, songs and passed down from generation to generation. In addition to Jews, homosexuals, and other groups, victims of the Nazi regime in World War II included Roma. The German word for Roma, "Zigeuner", is derived from the Greek root of the word meaning "untouchable" and therefore the group was considered "racially inferior".
The Roma flag depicts the sky in blue, as a symbol of freedom, boundless space and life under the open sky, without a roof over your head. The green color represents the grass, the road, the road, as a symbol of life marked by constant travel, on a road without borders that is always "open" to the Roma. And finally, the red wheel is a symbol of constant movement and life on wheels. No war has ever been fought under the Roma flag. There are no Roma on the list of those convicted of genocide in The Hague.