How to make friends easily at school and have a large social circle
Date: 18 october 2022 
Tuesday
Each student is an individual with a distinct personality. Habits, the environment, genetics, and life experiences all have a role in determining character. Each person has a unique capacity for interaction. There are people that are great at getting along with others, but there are also those who are more reserved and shy. Naturally, a person who is skilled at making friends will have no trouble doing so in college, the local area, or at their place of employment. What happens if you are reserved and bashful within the association?
How would you respond? Let's practice solid interpersonal skills so you can make lots of friends.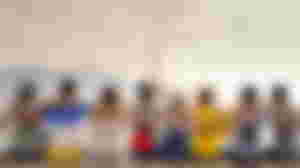 You need to practice accepting yourself just as you are. Doesn't everyone, including you, have benefits and drawbacks? You will experience unfavorable emotions if you keep your attention on your flaws. Feeling inferior, unappreciated, unaccepted, and other such emotions are a few examples. However, you might just be isolating yourself because of your emotions.
The significance of beginning relationships with good intentions is quite significant, especially in light of the different instances of youthful delinquency that we frequently hear about today. Making friends and forming associations might lead to adolescents developing a harmful habit with ill intentions. It's crucial to pick friends who exhibit the qualities of good, real friends. If we begin the association with good intentions, we'll also look for a decent environment that won't readily persuade or push people into action that goes against social norms.
We must be able to broaden the scope of our associations in life. If all you do is go to college, come home, and sleep, try adding a little variety. Perhaps you can reconnect with old acquaintances who you've been avoiding due to your hectic schedule. Then, propose meeting up with them in a coffee shop to talk about a reunion event, for instance, or just to have a casual conversation. Alternately, you might join groups both locally and online that share your interests and pastimes.
Basically, broaden your associations. Make an effort to get along with as many people as you can. As a result, you have a large network of friends and acquaintances who can impart knowledge and even share experiences. If you are not having any problems at this point, it indicates that you are prepared to open up and alter your social interactions.
Being nice and smiling all the time is a fantastic way to get along with your classmates. A constant smile will convey that you are friendly and simple to converse with. Another sign of kindness and a strategy to get along and be liked by people is having a constant smile. We therefore make an effort to always come across as amiable, approachable, and open so that many people want to hang out with us.
Did you know that everyone enjoys being heard? Sadly, not everyone has the ability to listen well. A good listener not only hears, but also feels it as though he were the one experiencing it. Respecting others at all times, good listeners offer the necessary feedback. It seems logical that many friends will seek out this exceptional listener because they require their counsel and support. Try to develop empathy for other people so that you can listen well. Pay attention to what they are saying and feel the emotions they are feeling. In this manner, the community will find you likeable.
What's the benefit of having a sensitive friend? People will avoid someone who is easily upset and does not enjoy criticism. Making friends and getting to know lots of people exposes you to a wide range of human personalities. Other people are kind, others are egotistical, others are helpful, and some even speak carelessly. Avoid becoming easily offended if you want to be accepted by society. Accept criticism with a huge heart and use it as motivation to improve, even if it comes from others. Likewise, if pals play about with offensive language. After all, they weren't intending to be taken seriously; they were just kidding. Being confident and not easily offended are two traits that will help you get along and get the respect of others.
Being overly serious will cause tension and stiffness within the association. That's why developing a solid approach to getting along with peers requires a little sense of humor. Humor can help people connect with one another and can be a simple way to make new friends. A good way to win over many people is with humor. Just be careful not to use hurtful language or make poor jokes when using humor. For instance, making fun of other people's problems or bullying them.
If you have a reputation for being selfish, work to change it. People abhor selfishness, and if you act selfishly, you can be sure that you won't be spending much time together. Learn to be more open-minded and humble. This indicates that you are open to receiving criticism, ideas, and guidance from others in order to better yourself. Have feelings of altruism, help one another relieve burdens, and keep an optimistic outlook.Your selfish attitude will eventually wane and transform into a nicer one.
So that's how we get liked by many people, both at school and in the neighborhood where you live. Basically in order for us to want to be liked by many people, we just have to be kind and able to put our good attitude.