Company CEO in China wash the feet of hardworking employees. Video viral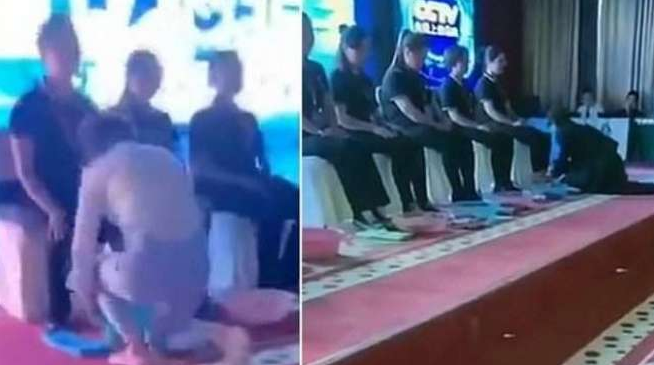 Two executives of a cosmetic company in China have washed their feet to thank their hard-working employees. 
Chinese executives are notorious for their bad behavior with company executives. There are reports coming from China, in which company owners have been forcing employees to crawl on the streets and eat cockroaches.
In this case, the news of the washing of the feet of the employees of the heads of the cosmetic company of Jinan city of Shandong province of China has surprised everyone.
The employees' foot washing ceremony took place November 2 at the company's headquarters. A short video that goes viral shows company executives leaning in front of employees.
The video shows the company 's 8 employees sitting on a small basin.
The executives have since been shown to wash employees' feet.
According to the report, executives aimed at washing employees' feet expressed their superior performance. It has also encouraged the employees of the  company .
On the viral video, where many people have praised the top management of the company, some users have even described it as fake and hateful. Instead of rewarding cash on high performance, employees are washed their feet.
Enjoyed this article?
Earn Bitcoin Cash by sharing it!
Explain
...and you will also help the author collect more tips.
Comments