'Not just on time but on budget? This is an easy-to-eat recipe for Season One. You can easily digest the ingredients here and do not require extensive prep time — perfect for quick cooking!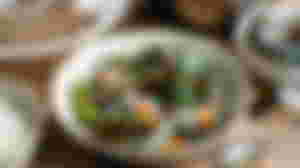 Ingredients: 
4 cloves bawang, crushed 

2 thumb-size luya, cut into strips 

1 pc sibuyas, sliced 

2 pcs siling mahaba 

2 tbsp vegetable oil 

1 kg tahong, cleaned and rinsed well 

2 cups tubig 

1 sachet ng 8g MAGGI® MAGIC SARAP® 

1 tali dahon ng sili, picked 
Procedure:
Saute garlic, ginger, onion, and seasoning with oil.

Put the mussels. Blend and cover the pan. Let it cook for two (2) minutes.

Add water and sprinkle with MAGGI® MAGIC SARAP®. Mix the chili leaves. Transfer to serving dish and serve.